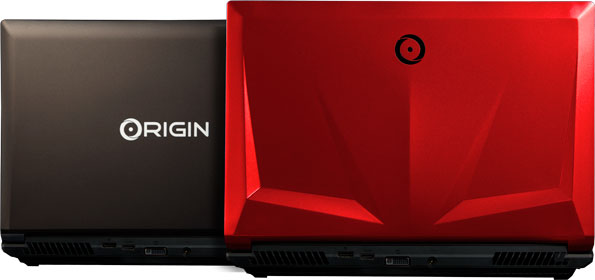 You may have heard of Origin PC's high octane EON17-S and EON15-S gaming laptops, but you've never seen them like this before. Sporting a complete redesign from the inside out, these are some of the first notebooks on the planet to feature Intel's next generation HM77 chipset (mobile Ivy Bridge).
The redesigned EON17-S and EON15-S also boast mobile Kepler parts from NVIDIA, including GeForce GTX 660M, 670M, and overclocked 675M options. Combined with NVIDIA's Optimus technology, Origin PC claims you'll be able to get up to 6.5 hours of battery life out these notebooks, which is two and a half times longer than previous generation EON17-S and EON15-S could provide.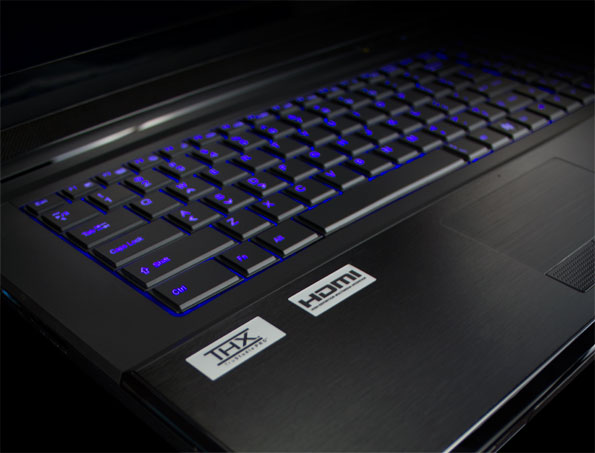 Other features include a customizable backlit keyboard with three lighting zones and seven color options, IntelRapid Start technology, factory CPU (EON17-S only) and GPU overclocking, THX TruStudio Pro with Onkyo surround sound, and free lifetime 24/7 support based in the United States.
"The type of complete technology overhaul that the EON17-S and EON15-S laptops have just undergone does not happen often. This is the best time to upgrade to an Origin laptop," said Kevin Wasielewski Origin PC CEO and co-founder. "With the latest technology from Intel and NVIDIA, the customizable backlit keyboard, and the exclusive Origin laptop design the new EON-S laptops offer stunning performance and they look as good as they perform."
Pricing starts at $1525 for the 15-inch EON15-S and $1576 for the 17-inch EON17-S.
Read the full press release below….
ORIGIN PC's EON17-S and EON15-S get Upgraded with a Complete Technology Overhaul and Exclusive New Laptop Design

Award Winning Laptops Now Feature the Latest Technology from ORIGIN PC, Intel, and NVIDIA.

April 8, 2012, 12:01AM Eastern — ORIGIN PC announced today the availability of their completely overhauled EON17-S and EON15-S high-performance laptops. Featuring the next generation Intel HM77 chipset, overclocked NVIDIA GeForce GTX 675M graphics cards, and NVIDIA Optimus Technology. These amazing new EON laptops are ideal for gamers, artists, enthusiasts, and professionals. They debut with the exclusive ORIGIN PC design available in silver, matte black, matte red, or with custom paint jobs.

Exclusive ORIGIN PC Laptop Design:First shown at CES, the exclusive new ORIGIN PC laptop design will be available as a standard option in matte black, matte red, silver, or your choice of custom paint.
Customizable Backlit Keyboard: With three lighting zones and seven color options, you can customize your laptop to match any style you want.
Next Generation Intel HM77 Chipset:Stay up to date with the just released Intel HM77 chipset which is ready for today and upgradeable for tomorrow.
Intel Rapid Start Technology:Experience lightning fast resume time with Intel Rapid Start Technology.
NVIDIA GeForce GTX 660M, 670M and 675M Graphics: NVIDIA's most powerful GTX mobile graphics cards ever created are able to display games and programs in beautiful, high resolution.
NVIDIA Optimus Technology: Automatically switches between your graphics cards and onboard graphics to provide more efficient use of power, less fan noise, and up to 6.5 hours of battery life (2.5 times more than previous generation EON laptops).
ORIGIN PC CPU + GPU Overclocking: Let our overclocking experts take your system to an even higher level of performance with our CPU (EON17-S only) and GPU overclocking backed by our industry leading service and support.
THX TruStudio Pro with ONKYO Sound System: High quality ONKYO speakers in 5.1 surround sound with the ability to output to a 7.1 speaker system of your choice. THX TruStudio Pro gives you the ability to tweak your audio to perfection.
Free Lifetime 24/7 Support: Every ORIGIN PC comes with industry leading Lifetime 24/7 Support based in the United States.

The EON15-S is Fully Customizable starting at $1525.00 and the EON17-S is Fully Customizable starting at $1576.00

"The type of complete technology overhaul that the EON17-S and EON15-S laptops have just undergone does not happen often. This is the best time to upgrade to an ORIGIN laptop," said Kevin Wasielewski ORIGIN PC CEO and co-founder. "With the latest technology from Intel and NVIDIA, the customizable backlit keyboard, and the exclusive ORIGIN laptop design the new EON-S laptops offer stunning performance and they look as good as they perform."

All ORIGIN PC systems come with free lifetime 24/7 phone and online service based in the United States. Each customer has a dedicated support team and free lifetime labor for upgrade needs. ORIGIN PC's Evolve Upgrade Program allows customers to purchase a custom PC now, and trade in their parts when they want to upgrade. Every ORIGIN PC features a 1 to 3 year free part replacement warranty combined with the best in class integration, quality testing and support.

PAX East information:
ORIGIN PC is showing off the new EON15-S exclusively at PAX East. Contact Kevin Wasielewski at[email protected] to set up a meeting at PAX East. The EON15-S laptop will be in the Wargaming America (Booth #490). ORIGIN PC will also have GENESIS desktops on display on the show floor at Wargaming America's booth (#490), LukeWarm Media's booth (#1167), PocketWatch Games' display (#670), and TornBanner Studio's booth (#485).

About ORIGIN:

ORIGIN PC builds custom, high-performance desktops, workstations, and laptops for hardware enthusiasts, digital/graphics artists, professionals, government agencies and gamers. ORIGIN PCs are hand built, tested, and serviced by knowledgeable gaming enthusiasts, industry veterans, and award winning system integrators. Every ORIGIN PC comes with free lifetime 24/7 support based in the United States. The ORIGIN PC staff is comprised of award-winning, experienced experts in the gaming and PC markets who want to share their passion with other enthusiasts. ORIGIN PC is located in Miami, FL and ships worldwide. For more information, please visit www.ORIGINPC.com or call 1-877-ORIGIN-Ø. (674-4460)

Follow ORIGIN:

www.twitter.com/originpc
www.facebook.com/originpc
www.youtube.com/originpc www.raptr.com/topic/originpc/wall
https://plus.google.com/112051064460619865632/posts