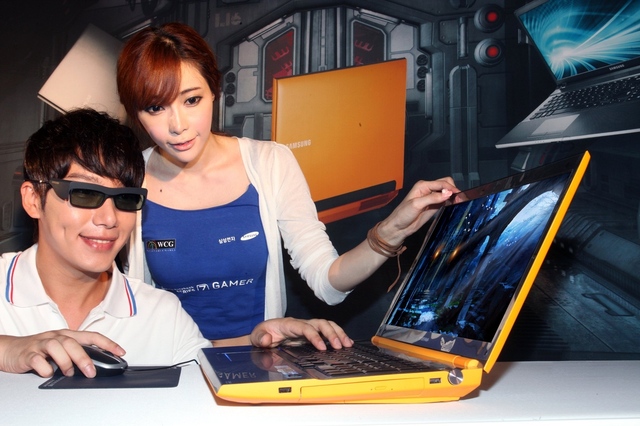 The Samsung Series 7 Gamer laptop is getting a 3D update to its powerful and lovely screen.  The refreshed device is being dubbed as the Series 7 Gamer Yellow  3D, and it's very sharp with its bright yellow finish. The new over-sized notebook will contain a AMD Radeon HD 7870M GPU and a 14.3-inch SuperBright 3D LED display.
The new guts of the device will also split its twin drive bays between a 1TB HDD and a fast-booting 128GB SSD.  There's no word yet on availability.  All we know is that Korean customers can grab one on August 14th for 2.99 million Won, which converts to around $2,643 American dollars.
Check out the video and official release below…
Samsung Electronics, a high-performance gaming notebook series 7 gamer Yellow 3D ' refresh of the model release.

Fully 3D game performance, upgrade to the latest specifications for the implementation

The third generation of the Intel processor • AMD and applying the latest graphics cards • Dual storage of user-centric complete 3D games

to implement the existing "Series 7 gamer Yellow 3D 'all parts of the core is characterized by a strongly upgraded.

The latest third generation of Intel processors, graphics cards • • AMD dual-storage effect

The refreshed model launches with three three-core processors, the Intel i7-3610QM applied, and second-generation processor, the battery performance compared to the reaction rate has been improved and can play more vividly.

AMD's latest graphics cards here 'Radeon HD 7870M' has applied. The Radeon HD 7870M graphics engine developed for games and multimedia DirectX (DirectX) 11.1 fully supports the latest version of a delicate and precise and graphic Expression.

In addition to the existing 1TB of additional storage space, 128GB SSD applied to dual-boot speed by integrating the existing storage Improvement in 19.1 seconds and 11.36 seconds, including 40% of storage space to improve the rate of reaction is characterized by widening.

Korea's first dedicated gaming notebook launched in 2011 "series, seven gamers' optimum performance of the four modes for selection, backlit keyboard and a cooling system, thrilling games, including 3D visuals and sound environmental performance, optimized for gaming enthusiasts, as well as has received acclaim from the gaming industry.

For two consecutive years in WCG 2012 official selection to the laptop, take advantage of Star • FIFA12 game

In addition, a series of seven players in previous years' two thousand and twelve World Cyber ​​Games (WCG 2012) 'as the official game PC Has been selected representative of Korea in a preliminary selection has already FIFA12 gamers are used in sport received great response. The Gamers Series 7 is coming August 17 ​​to 19 in Cologne, Germany WCG2012.  Samsung European Encounter contest is in progress at the WCG2012, including qualifying and elimination rounds nationally representative, is expected to be used in the Grand Final.
WCG2012 Grand Final coming Nov. 29 to Dec. 2 kunsansieseo is scheduled to be held in China.   The Series 7 gamer Yellow 3D 'domestic market and the August 14 price is $ 2,990,000.