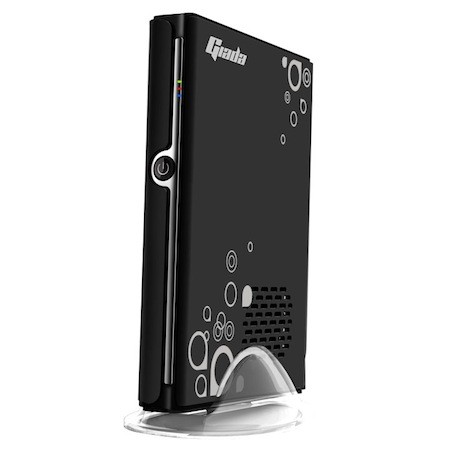 A few months back, a company called Giada first introduced a tiny Ivy Bridge-loaded i53 mini PC.  Now, for those budget-conscious, the company has just outed the  i35G series, a slightly dumbed-down version of its predecessor.
While not as powerful as the i53, the i35G  nifty specs of its own including an Intel Cedar Trail CPU, a GeForce GT 610 GPU and 2GB of RAM with the base model (up to 4GB).  Additionally, it's sporting an all-in-one card reader, five USB 2.0 ports plus VGA and HDMI ports.
The standard unit offers a 320GB hard drive, and if you're looking for SSD, it has the option as an upgrade.  The i35G starts at $274, and currently only available in Canada and the U.S.
Check out the Full Press Release…
Giada Announces i35G Series for Consumer & Commercial Applications
Low Power Consuming Mini-PC with NVIDIA GPU

August 14, 2012, San Francisco, California – Giada, a brand of Jehe Technology Inc., (JEHE) is pleased to announce the i35G mini PC series. The i35G series is built on the powerful Intel® Atom™ D2500 series processor, and with the NVIDIA® GT610 GPU this mini PC can offer impressive system performance in consumer and digital signage applications.

Supporting 1080p Full High Definition graphics, the i35G series has up to 2GB of DDR3 memory with 512MB of VRAM on board. The i35G keeps power consumption to a minimum at 35W, while still having the flexibility to provide high performance solutions for digital signage for advertising, hospitality, brand promotion and digital menu boards as well as for consumers looking for a compact work station that also allows for light gaming.

The ultra-compact dimensions of 192 x 155 x 26mm allow this mini PC to fit virtually anywhere, and when used with the optional VES Mount Kit the users can easily and securely mount the i35G behind the large display devices or monitors.

For end users, the HDMI connection and remote control capabilities for playing and controlling music and movies permit even more versatility by allowing the i35G to become a home entertainment system. Connections to other devices the i35G includes VGA, Bluetooth, and 5 USB 2.0 ports. There's also a memory card reader port that supports SD, MMC, MS, and MS PRO. All these connections emphasize plug and play ease of use.

The Giada i35G series is available now in the US and Canada for the suggested retail price of $274.