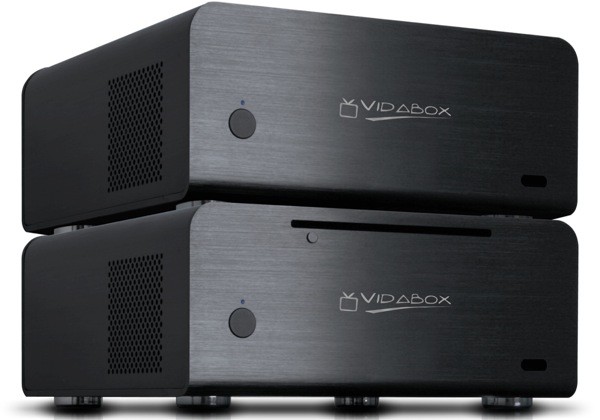 VidaBox's new vPlayer and vStreamer have a newly streamlined, stackable design, which keeps the noisy buzzes to a minimum through a new cooling system.   The pair of new devices will sport dual core processors and run on  35W of  power.  The units do not include dedicated media storage space and if you want HDMI 1.4 instead of 1.3, you'll have to request it.  Both will output 7.1-channel audio and 1080p video while integrating with most common home automation systems over RS-232.   Both devices are very similar, except the vPlayer will house a Blu-ray drive.  They'll be available through dealers on  September 4th.
Check out the full press release…
VidaBox vPlayer™ & vStreamer™ Media Extenders Sport Redesigned Look and Premium Features

New Extenders Stream Stored Blu-ray, DVD, & Music Content from any VidaBox Server, Media Center, or Media NAS, and Provide True 1080p playback with 7.1 Surround Sound. Systems Include Future Upgrade Path for HDMI 1.4 and 3D Blu-ray support.

Garden City Park, NY – August 31, 2012 – VidaBox announced the official launch of their latest Media Extenders, dubbed vPlayer and vStreamer. The vStreamer has no optical drive, can stream stored Blu-ray, DVD, and music from VidaBox servers and access online streaming content, all through a single CAT5e/6 cable over Ethernet. The vPlayer has the same features, but adds a slot-loading Blu-ray drive, which supports direct disc playback, or the archival of any unencrypted disc back to the main server. This allows users to easily load new titles onto the server from any vPlayer, providing an unmatched level of convenience.

"Our new, fourth-generation Media Extenders provide the richest and most robust feature set to date," states Steven Cheung, President of VidaBox, LLC. "Combining our time-tested, custom software platform with 'best-of-breed' hardware, we've engineered these new extenders to perform reliably, while providing the highest AV playback quality possible. With life-like 1080p HD video, crisp 7.1 surround sound, and upgradability for 3D in the future, vPlayer and vStreamer are the most versatile choice for Media Extenders today."

Not only can VidaBox extenders stream locally stored media, but they can also access streaming online content from sources such as Netflix, Cinemanow, plus hundreds of thousands of internet radio stations, all through additional plug-ins and on-screen applications. This combines the convenience of on-demand, streaming content with premium playback quality only available from disc-based sources.

"Other important additions that our vPlayers and vStreamers feature are their compact form factor and low energy usage," continues Cheung. "To get the highest AV quality playback possible, large, dedicated video processors were required in the past, significantly increasing the size, heat output, and subsequently, required fanned cooling which increases the noise emitted by the unit. By utilizing the latest hardware, vPlayers and vStreamers use less than 35W of power, and emit less than 27 dBA of noise at 1m – quiet enough to be installed in any bedroom. With minimal heat being generated, this also allows the system to run cool, guaranteeing system longevity."

The vPlayer and vStreamer are also designed with integrators in mind, and include features like support for IP or RS-232/Serial controls, plus optional 2-way integration with popular control platforms like Crestron, AMX, and other brands. The units are also upgradeable in the future, for new options like 3D Blu-ray, 2K video resolution, and more. The unique design of the vPlayer and vStreamer systems supports an extended upgrade path, allowing these units to keep up with AV technology as time progresses.

"Combined with a rich feature set, premium playback quality, high reliability, small size, and low noise, it's easy to see why vPlayers and vStreamers are the best choice for multiroom video setups where quick, on-demand access to premium quality Blu-ray & DVD video, plus the convenience of streaming content are needed," exclaims Cheung. "No other Media Extenders can provide these many features in a single package."

The vPlayer and vStreamer will be shipping and available starting Sept. 4th. For more details and specifications on these new Media Extenders, and other VidaBox digital entertainment and control solutions, please visit the company website at http://www.vidabox.com, or call +1-516-730-7500.