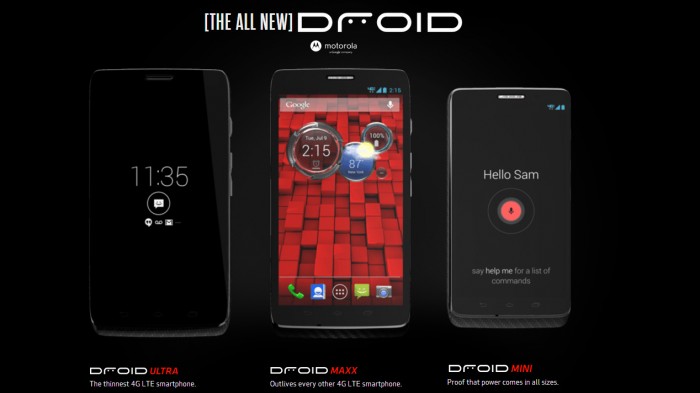 Yesterday, Motorola unveiled three new Droid phones. At a  quick glance they're almost identical with the exception of a few select features adorned to each device.
Droid Maxx
The Maxx is the largest of the bunch sporting a 3500mAh battery, and replaces the company's Razr Maxx.  The Droid Maxx enjoys Google's Always on Voice feature that allows you to just talk to the phone without touching it.  Much like the Ultra, the Maxx sports a 5-inch screen, though Motorola hasn't said what the resolution is, though we do know it's "HD".  You'll also have access to Google's newest low power notification system. Finally, the Maxx ships with built-in wireless charging and 32GB of storage.
Droid Ultra
The Ultra is for the most part the same phone as the Maxx.  However, it includes a smaller, 2130mAh battery and doesn't include wireless charging.  It too includes a 10-megapixel camera, and like the Maxx, can capture full HD video.  Storage is limited to 16GB.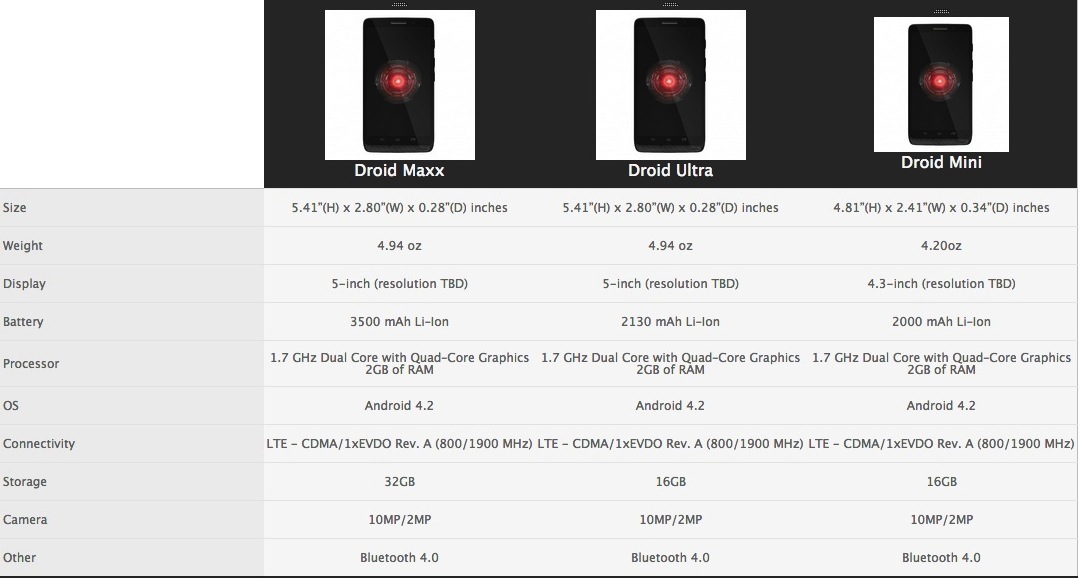 Droid Mini
Don't be fooled by this smartphone's small size, even though it is the most pocket friendly of the bunch.  From what we know so far this phone has the same spec sheet (in terms of processing power) as the two aforementioned phones, and has the same Google Always on Voice feature.  Moreover, the battery is the smallest of the three at 2,000mAh, but so is its weight at 4.2oz.
The Droid Maxx, Droid Ultra, and Droid Mini are all available for preorder at Verizon's site.  The Droid Maxx sells for $299.99 on contract (available 8/20), the Droid Ultra $199.99 on contract (available 8/20), and the Droid Mini $99.99 on contract (available 8/29).
Check out the video…