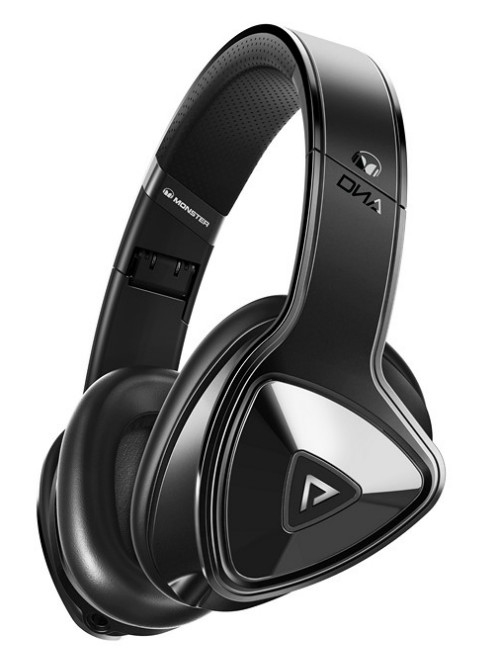 The latest from Monster, their new DNA Pro Wireless Headphones, brings the company's next-gen Pure Monster Sound technology, and also introduces noise isolation to the line. Additionally, the new DNA Pros do not need batteries or recharging to operate.
Best Buy will have exclusivity for these cans for now, and they'll be offering them in Matte Black and White Tuxedo for around $300.  Additionally, the new model has been designed by head Monster engineer, Noel Lee, and promises extreme articulation and deep-thumping base.
The DNA Pro also features dual-port inputs, which allow up to five additional headphones to connect simultaneously.
Check out the full press release…
Monster Releases New Monster® DNA PRO™
The Look. The Sound. No Batteries Required.
–New Over-Ear Expands Monster® DNA™ Line: Features Pure Monster Sound™ and Noise Isolation Technology–
–DNA PRO™ Exclusively Available at Best Buy–
BRISBANE, Calif., Oct. 31, 2013 /PRNewswire/ — Monster, the world leader in high-performance personal audio, announced today that it has expanded its signature Monster® DNA™ headphone line with the release of the new Monster® DNA PRO™. The newest addition to the DNA™ line features its distinctive triangular shaped ear cups and Monster's next generation soundPure Monster Sound™, and adds noise isolation technology. DNA PRO™ doesn't require batteries or recharging.
"Headphones are maturing, and so are listeners' tastes," said "Head Monster" Noel Lee. "It's no longer just about bass energy, but clarity, transparency, dynamic impact, and refinement in music reproduction."
Monster® DNA PRO™, exclusively available at Best Buy, is available in two core colors, "White Tuxedo" (white over black duo tone with chrome ear caps) and "Matte Black" (SRP: $299.95). DNA PRO™ joins the Monster® DNA™ on-ear (SRP: $229.95) and in-ear versions (SRP: $129.95). The full line of Monster® DNA™ headphones are available at fine retailers worldwide.
To download an image of the new Monster® DNA PRO™ please visit: http://we.tl/2P9cifK6IB
Sound: Pure Monster Sound™ Brings Superior Audio Quality
Designed by Head Monster Noel Lee, Pure Monster Sound™ uses Monster's latest proprietary technologies to offer the full experience of live music, with extreme clarity, tight articulation, and deep pounding bass that motivates you to achieve at your highest level of performance.
Share Your Music with Monster® Music Share™
Among the innovative capabilities of Monster® DNA PRO™ headphones is Monster® Music Share™, which features dual-port inputs that allow up to five headphones to connect at once and share their audio experience. Friends can enjoy all their music together in a brand new way, feeling every detail and beat, just as though they were in the studio or on stage with the musicians.
Design: The Shape of Things to Come, Featuring Pure Monster Sound™
Monster® DNA PRO™ over-ear headphones are a bold, clear and iconic expression of the shape of things to come. They feature the company's breakthrough Pure Monster Sound™, specially tuned by Head Monster Noel Lee. Pure Monster Sound™ uses Monster's latest proprietary technologies and sonic innovations to bring the full experience of live music to music lovers and concert goers everywhere. Articulate, tight, and ultimately revealing, it's as close to live music as being on stage with the musicians.
New Fashion-Forward Design, Duo Tone Color Approach!
Designed with both the music and fashion consumer in mind, the Monster® DNA PRO™ features a distinctive totally new, bold and striking triangular shape.  DNA PRO™ features duo tone colors, with the inside color asserting itself just as prominently as the outer headband color. The inside color shows up on the upper side, and both colors are meaningful. Extensive design considerations in Monster® DNA PRO™ also include advanced, pillow-soft noise-isolating cushions that lock in sound so you can listen for hours and hours without distraction. The noise isolation keeps out extraneous noise and the total comfort prevents listening fatigue, which is great for hours-long listening sessions at the office, at home, or anywhere.
ABOUT MONSTER
Monster was founded over 30 years ago by Head Monster Noel Lee, who was recently honored with the prestigious Plus X Award®: Lifetime Achievement Award, as a company dedicated to creating products that enhance the sound quality of music. The company engineered the sound of the acclaimed Beats by Dr. Dre® headphones, and has become the world's leading manufacturer of high-performance, sonically superior headphones, all of which feature the company's Pure Monster Sound™. Monster is also the world's leading manufacturer of advanced connectivity solutions for high- performance home entertainment, audio, home cinema, computer and gaming as well as a leading innovator in the field of mobile accessories and professional audio. The company also provides high-performance AC power line conditioning and protection products for audio/video systems, as well as energy-saving power products. Monster continues to lead in innovation with over 300 U.S. and international patents and dozens pending, offering more than 4,000 products in over 134 countries worldwide.
Explore the world of Monster at www.monsterproducts.com. To become a fan of Monster® products, please follow us on Facebook (www.facebook.com/monsterproducts) or Twitter (www.twitter.com/monsterproducts). Hashtags include: #monsterdna #dnapro #inmydna.
Trademarks and brands are the property of their respective owners.