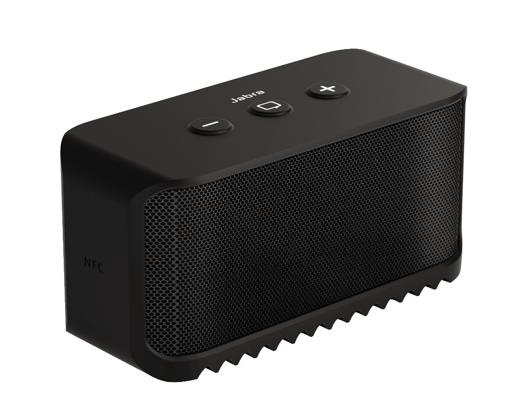 The Jabra Solemate Mini is a portable Bluetooth speaker that is similar to the Solemate and Solemate Max editions of the speakers. The speaker is advertised as being pocket sized while offering a big sound. Per the specifications the speaker measures a length of 4.92, width of 2.08 and depth of 2.36 inches. The device weighs in at 10.4 ounces. The speaker, like it's predecessors, is connected by Bluetooth 3.0. However for those of you with a Near Field Communication enabled device, it can also be paired in this manner.
Irrespective of the means you use to setup the speaker, the process is simple enough for just about anyone to manage. It takes around a minute to go from unpacking the speaker fill the air with streaming sounds from your device. A nice little benefit is that you can also use it for listening to voice calls.
There are three buttons on the top of the device that are used for answering and ending calls, volume up and volume down. The call button also returns the battery status. By holding the volume buttons you can also mute the microphone.
The company says that the battery charges in about 3 hours and can provide you with entertainment for about 8 hours. That's pretty much what you'll get. In addition to the buttons there is also a 3.5mm headphone jack (in case you don't have Bluetooth), the power switch, and microUSB along with the to speakers on the front. The design is pretty robust and the company says that it is resistant dust, and moisture. It has a nice stable feel to it and can be a companion doing house work or even as your shower speaker.
The sound quality will satisfy your needs in relation to the size of the device. Audio books, various music genre's, a podcast here and there and it holds up nicely. It definitely holds it's own and even seems to produce the sound of a larger device. You shouldn't have any complaints frankly as it produces a full and bright sound.