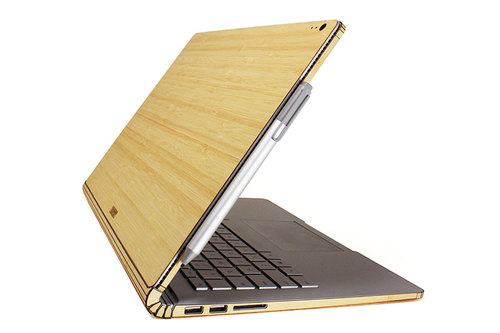 If you're a techy, no doubt you've seen Microsoft's latest edition of their Surface line, the Surface book. It marries top-of-the line specs with a gorgeous design; however, a company called Toast wants to improve on the Surface Book's design even further with their luxurious wood veneer covers.

Toast Design
The covers are laser cut for precise fit and then finished by hand. Fitting your Surface Book is a breeze with simple peel & stick application, and the Toast covers provide grip, protection and serious style.
You can choose from four wood veneers: walnut, ash, bamboo or ebony.  Or go a step further and customize your cover with a laser engraved logo, design or original artwork.

What's Included in the Toast Kit
The wooden cover kit for the Surface Book includes a top cover, side wraps, button covers and full wraps for every angle of the articulated hinge…pretty much everything to make your new Surface Book stand out among the masses.

Interesting Tidbits about Toast
All covers are laser-cut from real wood veneers and top-grain leather
The veneers are paired with a high quality 3M adhesive
Average thickness of their covers is .9mm: that's 1/32nd of an inch
Wooden veneers are sourced from responsibly managed forests within North America, bamboo from Asia
Top-grain leather comes from American cattle
All covers are hand-finished
All

Toast

products are made with 100% renewable energy

What's coming
Toast has just launched a version for the Samsung Galaxy S7 Edge. The one-piece back cover wraps the S7 Edge's sides and corners for a seamless look.
You also get a bonus lens surround and mini wood button covers, all of which covers nearly every square millimeter of the S7 Edge.
Choose from four wood veneers; walnut, bamboo, ebony or ash and even add a custom design.
The new Toast for Samsung Galaxy S7 Edge can weather daily wear and tear with it's natural wood. Built to last, this Toast cover, along with all of the Toast covers, are designed to come off cleanly without leaving any residue behind.

Check out the release…
Toast Creates Superbly Engineered Real Wood Cover for Microsoft Surface Book

Hand crafted covers combine high-tech design with naturally beautiful materials

Portland, Oregon-based company Toast has designed an intricate, real wood cover for the Microsoft Surface Book that complements the laptop's reputation as the ultimate creative workhorse.  Featuring astoundingly precise laser-cut detailing that allows its ultra-thin wood veneer to highlight every facet of the machine's contours, Toast's sophisticated cover provides customers with an array of functional options to suit their needs and taste.

Designed to allow full port access and to protect the detachable screen, the cover attaches directly and securely to the Surface Book with a high-quality adhesive that helps protect it from sand and other particulates that can damage devices.  The starter kit includes a top cover, side wraps, button covers and individual wraps for every angle of the articulated hinge.  Additional matching pieces – a keyboard surround, front screen frame and bottom cover – can be added for more protection and a completely dialed-in look.  The Surface Book's magnetic stylus grips securely right through the wood.

The cover comes in eco-friendly walnut, ash, bamboo or ebony veneer. Each cover is meticulously treated with a triple hand-rubbed finish that gives the sleek wood veneer a fabulous hand feel and lustrous look.

Design lovers everywhere will appreciate that all Toast covers can be personalized with custom laser engraving.  Custom text, logos, designs and original artwork – from clean and simple to detailed and elaborate – can be laser engraved into the wood to make a cover truly stand out from the rest.

Not only do Toast covers deliver ergonomic elegance and surprising style, they also provide a layer of protection against bumps, nicks and scratches. The naturally robust wood gracefully weathers daily wear and tear. Built to last, Toast covers are designed to come off cleanly without leaving any residue behind.

The Surface Book cover starts at $69, with custom text engraving available for an extra $5. Front Panels and Keyboard Covers are available for an extra $20 each and a Bottom Cover for an extra $30. For more information about Toast's new Surface Book covers, other customization options and ordering visit: www.toastmade.com

The full range of incredible Toast products is also available on Toast's website: real wood and genuine leather covers for phones, tablets, laptops, and gaming consoles.

About Toast

Designer Matias Brecher launched Toast in January 2012 with the support of 300 intrepid crowd-funders who backed the company's Kickstarter project. This successful campaign made it possible for Toast to purchase its first laser and begin producing iPhone covers.  Since those early days in Matias' basement shop, Toast has grown to a team of ten creative Portlanders who craft the most amazing, elegant and environmentally-friendly tech covers known to man.  All Toast covers are designed and made in Portland, Oregon. As a member of One Percent for the Planet, Toast donates 1% of its annual sales to environmental non-profits.