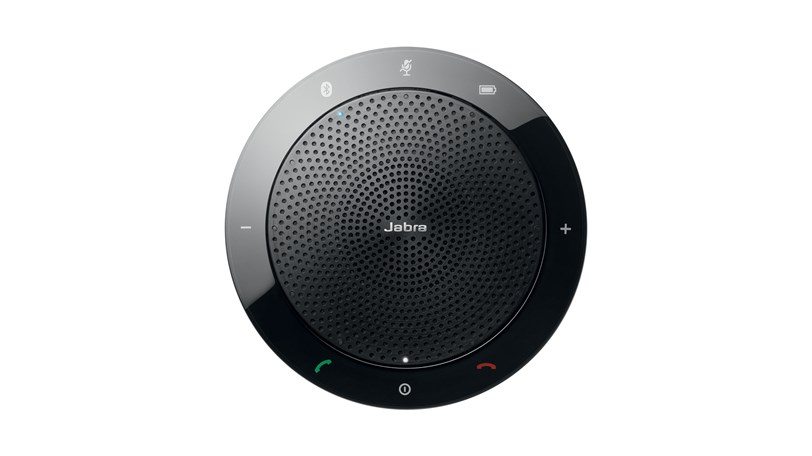 Jabra just unveiled the Speak 710 a premium portable speakerphone designed for personal and professional use. The high-end personal device boasts immersive sound and HiFi grade audio that makes it perfect for both streaming music and conference calls. Perhaps most importantly, it's small, compact and super light, making it great for travel.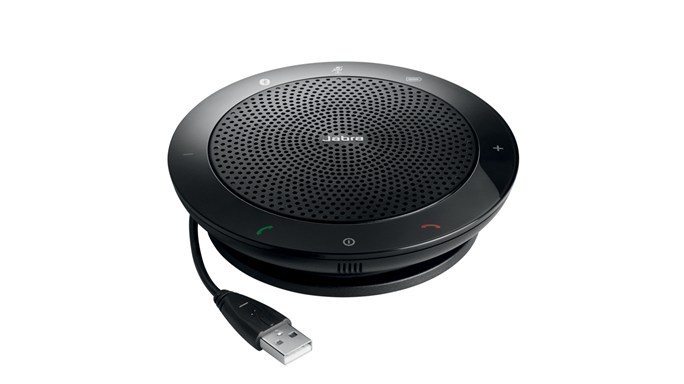 Other key features include interaction with  Personal Digital Assistants like Google Now, Siri and Cortana with just the touch of a button, much like the Amazon Echo and the like. It also has up to 15 hours of talk-time and a whopping 480 days of standby time.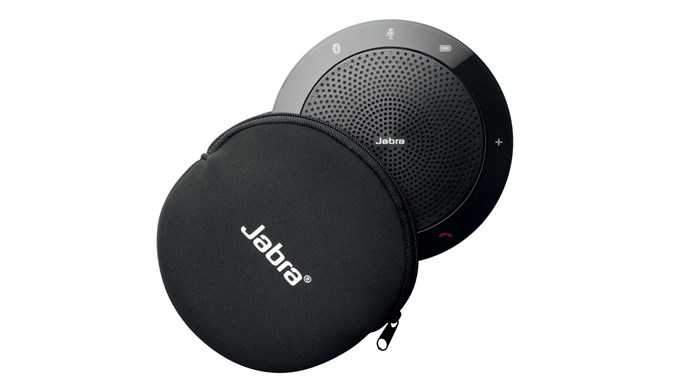 The Jabra Speak 710 is a great fit for busy professionals and domestic managers. Check out the release below….
_______________________________________
New business partner and music companion for empowerment, collaboration, and convenience
Jabra Speak 710 provides immersive call and sound experience for business leaders
and executives with high mobility
Latest edition to award-winning Jabra Speak Series
Orlando, Florida – March 27, 2017 – Audio and communications technology specialist, Jabra, today announced the launch of the Jabra Speak 710. The premium, portable speakerphone is designed for professional and personal use and ensures great sound for conference calls and music. The Jabra Speak 710 is a high-end personal device providing premium HiFi grade audio and a superior Unified Communication experience.
The Jabra Speak 710 is the perfect partner for business leaders and C-level executives. This highly mobile target group works on average almost 58 hours a week, of which they spend nearly 2.5 hours in meetings every day. Besides having a highly collaborative job, they also travel frequently – with 86 percent spending up to ten days per month on the road1.
To accommodate their lifestyle, business leaders and C-level executives require solutions that support mobility, collaboration, connectivity, and flexibility. Working primarily in distributed teams across several time zones, they need extended collaboration and mobility to enable conference calls whether on the road, in the office, at home, or in a hotel. 40 percent of business leaders use speakerphones for conference calls once or twice a week, while 21 percent use them three to five times in a week2. However, far too often, audiences experience a major impact on the effectiveness of calls3. For a business group that spends a large amount of time on the phone and in meetings, this has serious effect on productivity.
First truly professional and personal conferencing device
The Jabra Speak 710 is the first truly professional and personal conferencing device, boasting an omni-directional microphone for up to six 'in room' attendees, 15 hours of battery life, and a HiFi grade speaker for crystal clear conversation and music.
The Jabra Speak 710 builds upon the success of the Speak Series, which has sold more than 1 million units worldwide. The Jabra Speak 710 delivers an audio performance twice as powerful as Jabra's market leader Jabra Speak 510. The new family member is designed with an incredible smart feature, enabling two units to be wirelessly linked together with the touch of a finger. Users can easily pair two devices and create an immersive sound or expand the room coverage from six to twelve attendees.
Compact design
Research shows a third of conference calls are delayed due to setup issues with connections and speaker phones, 15 percent of meeting time is spent 'getting started', and one of the most common frustrations is poor sound quality4. Bringing a plug-and-play, easy-to-use speakerphone experience with premium audio to offices and small conference rooms, the Jabra Speak 710 works with all types of smart devices. It integrates seamlessly with all Unified Communications platforms and eliminates the need for dial pad solutions – challenging the traditional hardware approach to conference calling.
With more power than ever before, the Jabra Speak 710 Series comes in a small, compact design, with an integrated folding stand for extra flexibility. Connect to a smart device or laptop in seconds via USB or Bluetooth via the enclosed dongle. This provides a 100-foot range for laptops or 33-foot range for smartphones.

Powerful music speaker
Effortlessly switching between music and calls, the Speak 710 can become a powerful music speaker. Simply connect to an online music streaming service or music library on the mobile device.
"The Jabra Speak 710 offers extended mobility combined with an immersive audio and true music experience. This makes it the exclusive business partner and music companion for any business leader and C-level executive," states Holger Reisinger, VP for Business Solutions at Jabra. "This truly personal Bluetooth speakerphone wrapped in a super sleek design is the perfect tool for everyone who cannot afford to have unreliable and uncomfortable collaboration tools."
Features & specifications
Speakerphone made for voice, music and multimedia
Omni directional microphone for 360° audio pick-up
HiFi grade audio quality
Up to 15 hours of battery life
In-room coverage for up to 6 people
Connectivity in seconds: USB, Wireless (Bluetooth® or with PC dongle)
100-foot wireless range with PCs, 33 feet with smartphones
Plug & play solution with intuitive on-device call controls
Wireless linking option with an extra unit for full stereo experience or to extend the conference space to up to 12 persons
Smart interaction with Personal Digital Assistant – MS Cortana, Siri or Google Now with the one touch Smart button
Compatible with all leading UC platforms – Certified for Avaya, Cisco and Skype for Business and more
Optional Kensington lock support and online maintenance
See more at www.jabra.com/speak710
1 "Socializing Your CEO III: From Marginal to Mainstream", Weber Shandwick and KRC Global Research, 2015
2 Knowledge workers survey, Jabra, 2015 – Target group: middle and top management; said yes to primary using speakerphone or using speakerphone for collaboration
3 CBSI research for VTech Communications, 2015
4 Productivity in business report, 2015, Jabra