The people at Carnegie Mellon's Future Interfaces Group (FIG), however, think that every challenge has a solution. To this notion, they are developing a prototype for special smartwatch, which greatly increases its capacitive touch surface area by projecting a touchscreen onto a user's arm. They are calling it the LumiWatch.
How are they doing this? They are using a 15-lumen scanned-laser projector that's bright enough that it can be viewed both inside and outside. A depth-sensing array is then used to register the different touch gestures, while the team has even thought to consider a "slide-to-unlock" mechanism to avoid false positive gestures being recognized when, say, you simply scratch your arm. The self-contained LumiWatch creates an interactive surface area of 40 x 40 centimeters, more than five times that of a typical smartwatch display.
"It's an entire computer, with battery that lasts a day, plus a projector for on-skin graphics, as well as a custom depth sensor that allows us to track touch input on the skin," says Chris Harrison, head of Future Interfaces Group.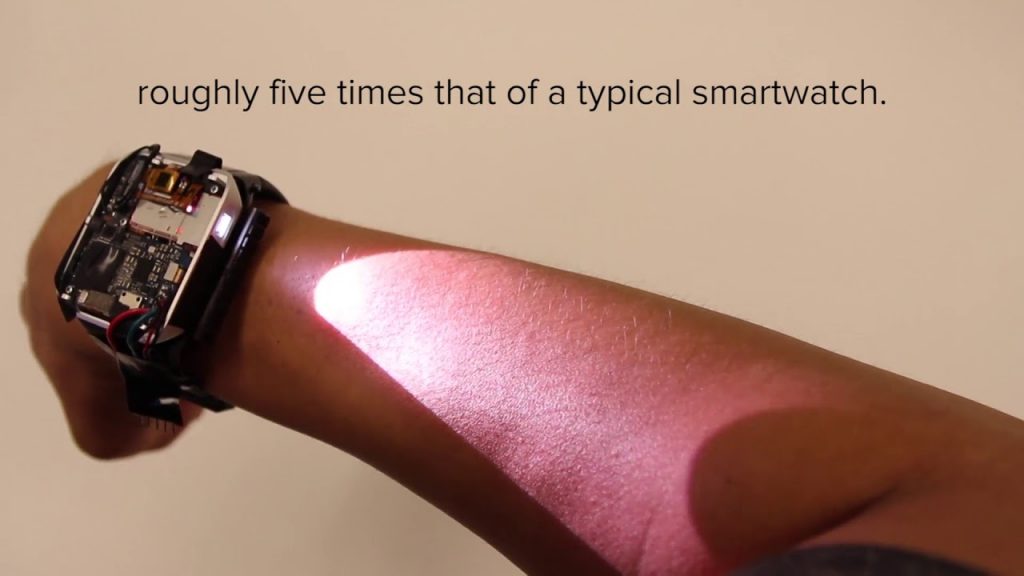 Harrison says that the LumiWatch could potentially be the kind of innovation that takes smartwatches in general to the next level. "The computational difference between a smartphone and smartwatch is very small," he says. "The big difference is the screen. Smartwatches have yet to gain traction in large part because the interfaces are so meager you can't do much with them. If we can solve that problem – give smartwatches big screens – we might be able to make them first class devices."
So will the LumiWatch, and more importantly, the technology become a reality? Very possibly. "We collaborated on this proof-of-concept hardware with ASU Tech, a consumer electronics OEM in China," Harrison said. "They are well positioned to take this to the market. Beyond that, I can't say much more."
Comment on this article and other GadgetGram content by visiting our Facebook page, or our Twitter and Instagram feeds.