Washington state-based company Guardline manufacturers security products including outdoor motion detectors, wireless home alarms, etc, and there latest Guardline Wireless Driveway Alarm System fills a niche in home security and smarthome technology that other competing companies haven't.
The Guardline Wireless Driveway Alarm System took the company two years of rigorous environmental testing and quality development to create the most reliable motion detectors around.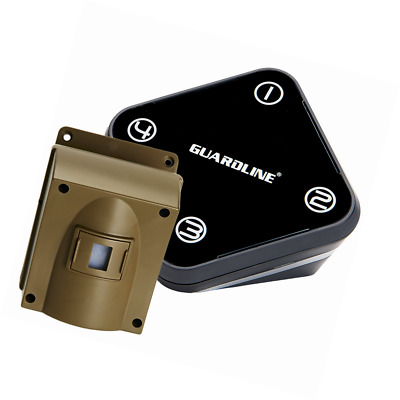 Overview
The Guardline Wireless Driveway Alarm System's basic function is to alert you to motion around your property when the infrared beams are broken caused by someone or some thing entering the area. Once that happens, the receiver will emit a loud sound of your choice. Sound options include melodies, sound effects, chimes, etc.  There are over 30 fun & unique chimes to choose from, and you can match different chimes with different sensors around your property to differentiate where motion is being detected.
The "1/4th Mile" 3-Sensor/Detector Weatherproof Alarm System, which is what we were sent, consists of a 3 sensor units and a receiver unit with built-in speakers, along with some mounting gear. The sensor unit has multiple mounting options such as a porch, walkway, and most importantly a driveway.
The sensors, as mentioned, can be strategically placed anywhere, and the receiver (Guardline's long range version), can be placed up to a quarter mile away from its sensors. It's not completely immune to obstructions (although close), so its best to place the receiver in a semi-open area with somewhat of a straight line position to the sensors. When I say obstruction, it will work through interior walls, but extra heavy interference such as tall hills, a collection of trees, metal siding or thick walls might diminish the wireless range.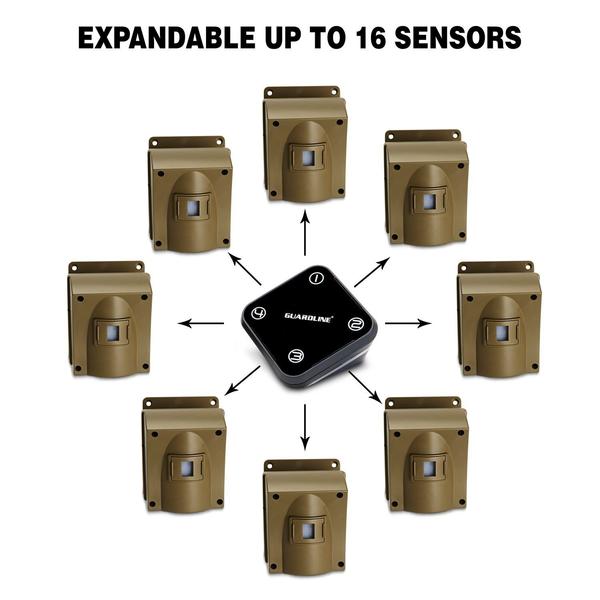 Additional sensors can be purchased, and each receiver can be paired with up to sixteen sensors, allowing you to cover a lot of acreage should you need it.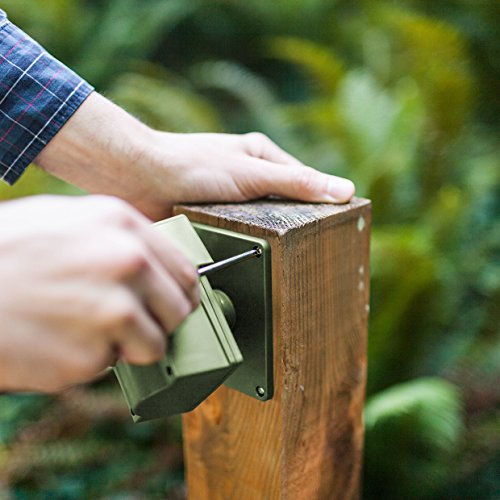 Set Up
Setup is simple and pairing the sensors to the receiver and setting the receiver tones is a breeze. Incidentally, the different zones on the receiver can be linked with other aspects of your security set-up. Firstly, you'll need to install the batteries into the sensors and receiver, which require regular AA and AAAA batteries. The batteries for the sensor are strictly for backup purposes.
Mounting-wise, you simply attach the brackets to your mounting area with screws, and subsequently attach the plastic sensor and receiver housing to those brackets. The outdoor sensors are made with industrial grade PVC housing, rubberized weather resistant seal, and a sunshade. In short, they're built to last.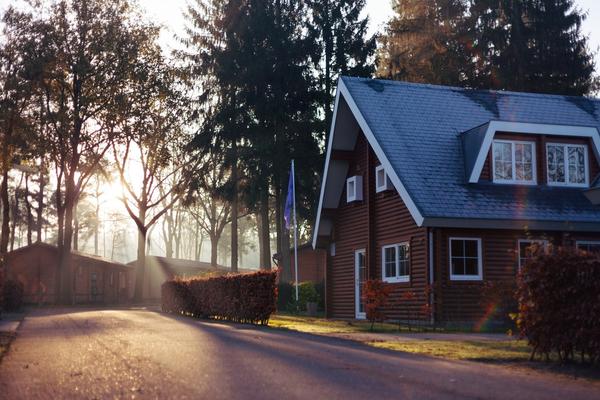 Performance
The Guardline Driveway Alarm works like a charm, alerting you from the receiver with your preset sound. Primarily, it works best with movement from animals, cars, vehicles and of course pedestrians. The receiver has a LOUD & adjustable volume as well as a 12-volt relay to add wired external alarms or other things like motion security and flood lights, or a separate security system using a 12-volt source.
If you're worried about false alarms, Guardline has minimized this issue with an adjustable detection width option for the sensor "eye" and a swivel mount to focus the detection angle of the sensor.
A small switchboard in the battery compartment allows you to adjust several types of settings. For example, you can change the sensor's effective distance, which can help prevent the sensor from detecting things you don't want detected. You can also add a delay, you can add a night-only mode, or you can change the sensitivity of the sensor to pick up slow-moving or fast-moving objects.
All of these various modes, distances, obstructions and positions worked without a hitch, performing as promised.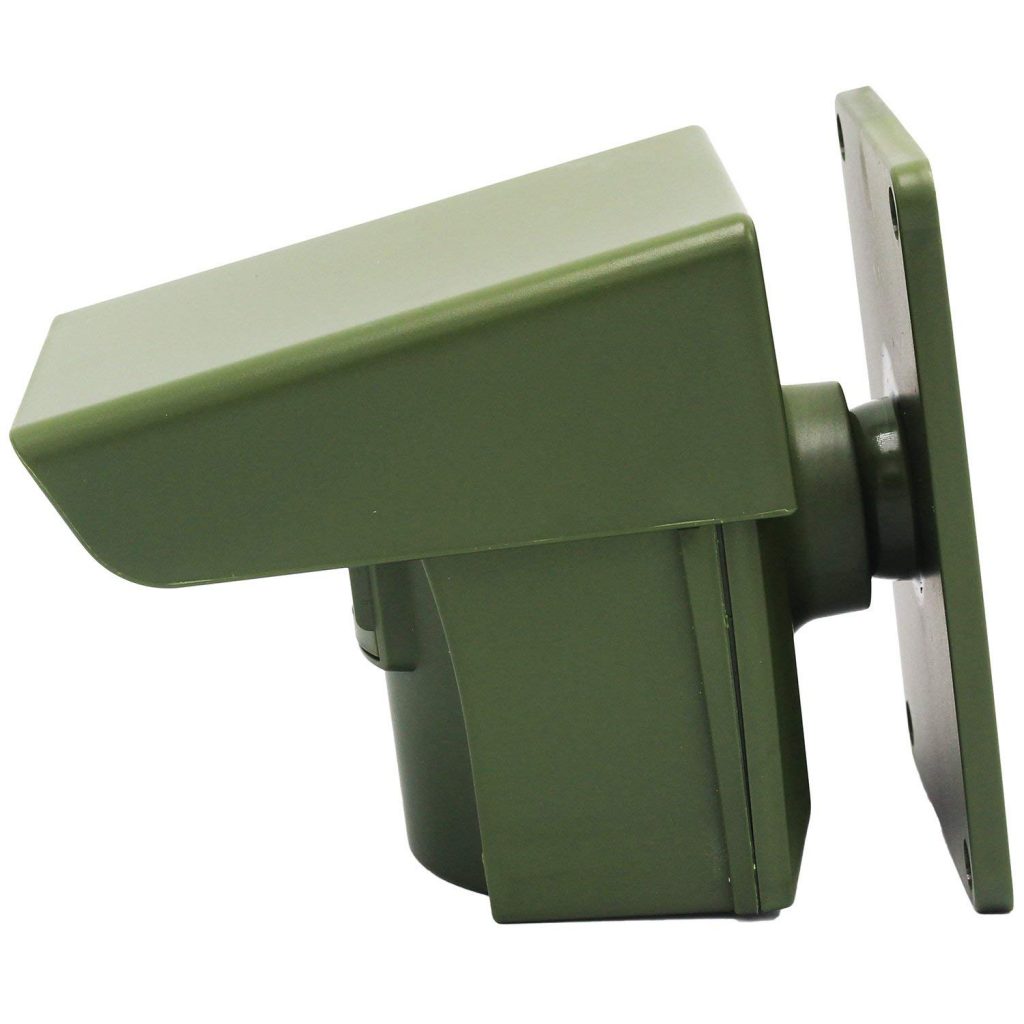 Bottom Line
The Guardline Wireless Driveway Alarm System is a pretty great option for an additional layer of security. Aside from driveways, you can also use it for walkways, patios, decks, or any outdoor area that needs motion-sensor monitoring or some sort of audible alarm to scare away intruders.
It's ability to be hooked up to multiple sensors for expanded coverage or with 3rd-party lights and other security systems is also a plus, and the various settings and modes it provides makes it completely customizable.  It's well worth the $309 Guardline has priced this system. Guardline offers a 2-YEAR WARRANTY on all of their outdoor motion alerts, an industry-leading achievement. Check it out.
Guardline Promo Code: Use promo code GADGETGRAM to save $20 on your purchase. For more information, visit Guardline here.