If you're in the market for a sturdy external hard drive that keeps your files safe from the elements, both environmental and cyber-wise? Then take a look at the iStorage diskAshur2.
Like other iStorage devices, the diskAshur 2 ($380 for the 2TB) has a physical keypad on the front, which gives you additional security that the competition doesn't. This new-gen line of diskAshur also comes with a faster USB 3.1 connection for improved performance, and offers large capacities drives. So if you need to carry around a lot of sensitive data, then the diskAshur2 is your ticket.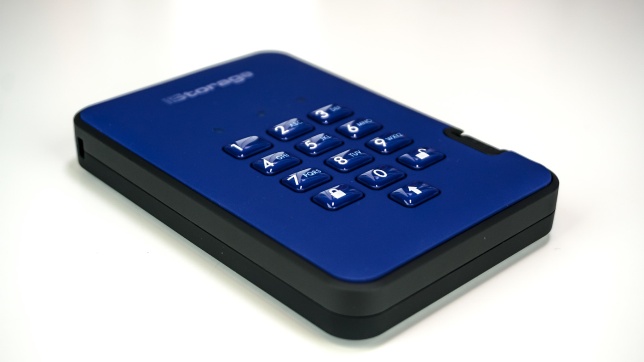 Design
As mentioned, the diskAshur2 has the familiar physical number pad on the front of its body, and it looks very sophisticated and clean. It comes in Ocean Blue, Racing Green, Phantom Black and Fiery Red.
A USB 3.1 cable comes attached to the drive and wraps neatly along the body, keeping the connector safe when stored. There are 3 LEDs just above the keypad that inform you whether it's in Standby/Locked, User/Unlocked or Admin Mode. On the side of the body there's also a Kensington lock slot for fastening the drive so it can't be removed.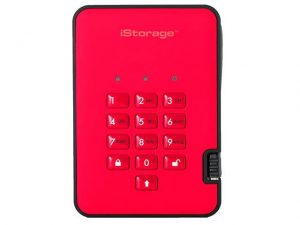 The diskAshur2 is sturdy and feels solid in the hand. It's also rated IP56 for water and dust resistance, and the keypad is epoxy coated for water resistance as well. The epoxy resin covers the entire disk, not only making it tamper-proof, but also helping to protect it from damage.
Security-wise, the diskAshur2 is designed to offer 100% hardware encryption, so you can protect your data without needing to download drivers or connect it to a PC. It also comes with a carry case, which makes it easy to carry and offers a bit more protection.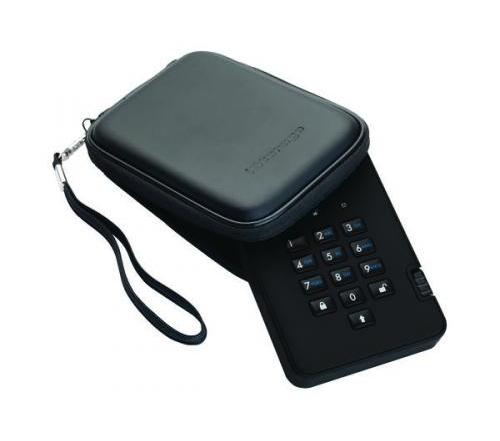 Performance
The diskAshur2 ships pre-formatted in NTFS, and comes with a default PIN in which you can change when you're ready. To do that, you simply hold down the Unlock and 1 buttons and enter in the admin PIN, and then your new one. iStorage makes sure your PIN is secure by requiring a minimum of seven numbers, which can't be sequential or repeating.  Once unlocked, the diskAshur2 can be used as a standard USB external drive, experiencing speeds up to 130 MB/s read and write speeds.
The diskAshur2 uses a traditional hard drive, rather than a solid state drive (SSD), which makes it a little slower, but still super fast for a HDD, and the top-drawer security makes this device a supreme performer.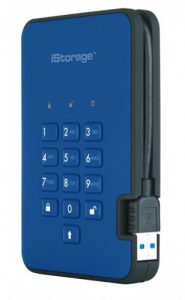 Bottom Line
iStorage has made another great external hard drive in the diskAshur2, which offers unrivaled hardware-based security. The keypad enables you to physically lock down your data, while the small yet rugged body keeps your data protected like Fort Knox. It is a little pricey compared to other external hard drives, but the additional security and thoughtfulness in design makes this device the top of the heap in it's category and class, and the price is well worth it.