Do you ride a two-wheeled vehicle on your daily commute or are you a weekend rider? Personal safety is key, including helmets as well as any other gear. That's where Dainese comes in. The Italian manufacturer of protective equipment and technical gear for dynamic sports just announced its newest creation; the Smart Jacket, a new technology airbag vest.
Dainese was founded in 1972, in Molvena, Italy. The company has been developing airbag garments for over 25 years and already has a complete line of D-Air racing tracksuits, jackets, and touring jackets that are sold for competitive racing.
The new Smart Jacket features the same D-Air technology that's used by MotoGP racers and has an extra feature: Stationary impact protection. Stationary impact protection isn't necessary on racetracks, but offers significant additional protection to non-track riders.
The company's CEO, Cristiano Silei stated in a release, "Smart Jacket is the result of more than 25 years of research on the D-air system, and combines in a single, intelligent, versatile, now available-for-everyone garment the ultimate in airbag technology for motorbikes, the same used by MotoGP professional riders."
The Smart Jacket vest is made to be worn under or over any jacket. Dainese D-air gear does not connect directly to your motorcycle and has an entirely independent functional system. The vest comes with GPS, accelerometer, and seven gyroscope sensors that are powered by a rechargeable lithium-ion battery. The battery holds up to 26 hours of charge and can be recharged via USB. The D-Air system uses an algorithm that reads the connected sensors 1,000 times a second, protecting the rider from events like lowsiders, highsiders, collisions with objects or other vehicles, and rear-end collisions. In case the vest's processor senses danger, it immediately triggers and inflates the airbag, the Shield. In case the Shield does get activated, a new Shield airbag can be installed by an authorized dealer, replacing the old one.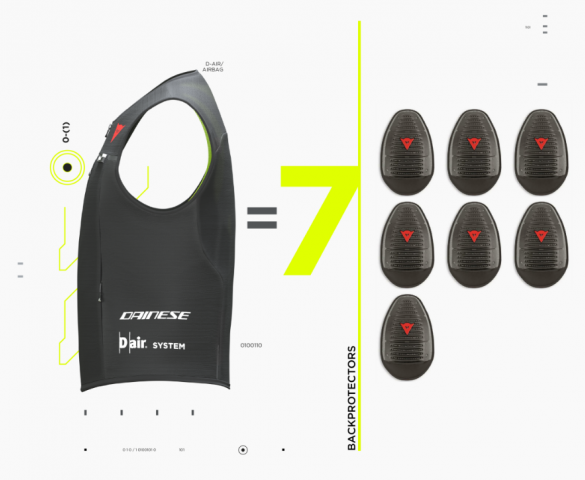 The Smart Jacket's Shield is its main protection, made of a microfilament structure that was designed to inflate uniformly, offering the same protection in all parts of the airbag. D-Air technology is the only certified motorcycle airbag protection without hardshell protection on the torso or back. The D-Air system's back protection is the same as having seven Class 1 armor back protectors.
According to Dainese, this is the first stationary impact protection for any motorcycle airbag system. This new protection immediately activates the Shield in case of any collision with a stationary vehicle. As a two-wheeled vehicle rider, you probably know the risks posed by other vehicles on the road, most of them including four-wheeled ones.
The Smart Jacket vest is made of abrasion and water-resistant material; it covers all weather conditions. And like any other protective motorcycle clothing company, Dainese is aware that if the protective gear is too hot people won't wear it. That's why the Smart Jacket is ventilated, allowing for air circulation, making it wearable even in the summer. The vest is also foldable, and able to be stored in a backpack, top box, or any bag.
The Dainese Smart Jacket vest hasn't been released yet, but we already know both its price and release date. It will cost $700 and will be sold in women's and men's versions, in six different sizes. The Smart Jacket will be available later in July, and in case you want to be notified as soon as it is released, you can link your email to their notification system here.