Just like upgrading a Smart Home with newly released smart gadgets, any proud owner of his/her Smart Home should know just how important it is to keep their home's security system up to date. This means that having the most capable smart camera can help you to keep both your home and your family protected. However, choosing the best smart indoors security camera for your Smart Home can be a hard task, as the market is now flooded with tons of different options. As such, knowing which are the most reliable smart camera manufacturers is an important piece of the puzzle. This brings us to the EZVIZ C1C Indoor Wi-Fi Camera.
EZVIZ, who's the company responsible for developing this smart Wi-Fi camera, is a committed manufacturer of innovative Smart Home gadgets that already accounts for at least 7 years of experience with smart devices. The company's innovative Smart Home gadgets are ultimately focused on creating a safe, convenient and smart life for its users, and that obviously includes its recently released EZVIZ C1C Wi-Fi Camera.
The EZVIZ C1C is a smart indoors Wi-Fi camera that allows homeowners to keep an eye on what's going on inside their home without needing to put much effort and/or money into a Smart Home security system.
Not only is this camera extremely easy to set up and install, but thanks to its small size it also blends in perfectly well with the rest of your home decor. Furthermore, thanks to its full HD resolution in 1080p, homeowners can easily see everything that's going on inside their home while they're away.
Lastly, the camera's proprietary Smartphone Companion App (the EZVIZ Smart App – discussed at the end of the article) offers users an easy way to manage their Smart Home's security by putting a ton of In-App Controls right at their fingertips. That includes things like Live-Video-View, Real-Time Talk through the camera's Two-Way-Talk system, Instant Alerts, and much, much more.
Now, let's take a more detailed look at the EZVIZ C1C Indoor Wi-Fi Camera and see exactly what this smart indoors Wi-Fi camera has to offer.
DESIGN & SPECS
Starting with its size, the camera is actually somewhat small, as it measures exactly 2.51 inches long by 2.51 inches wide by 4.05 inches tall (64 x 64 x 103 mm).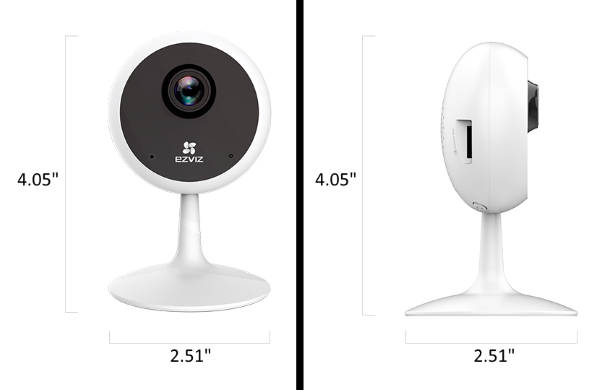 Furthermore, its small size and ultra-lightweight of just 3.38 oz. (96 g) ultimately make installing this indoors camera within any of your rooms a very easy task. The unit also features a very durable and sturdy build.
This smart indoors Wi-Fi camera comes equipped with a 2.8mm Wide-Angle Lens that integrates a 1/2.9″ Progressive Scan CMOS Image Sensor. The camera's Wide-Angle Lens can be tilted either at 110º or 130º degrees (around 106º Horizontal tilt and around 130º Diagonal tilt) and its lens' image sensor also includes a self-adaptive shutter.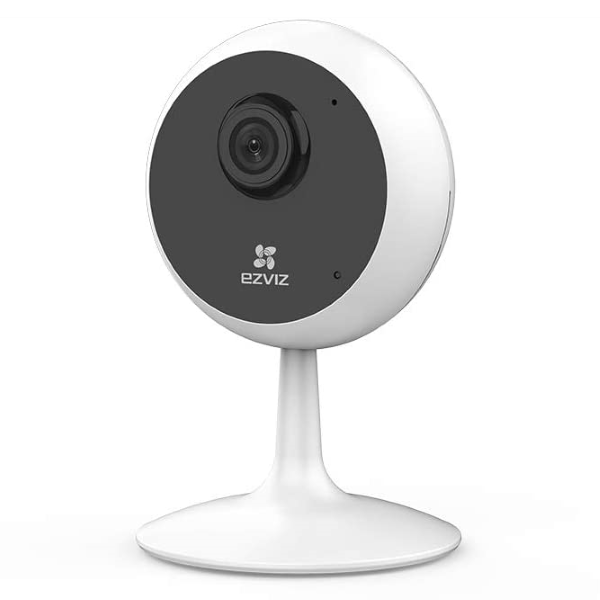 The EZVIZ C1C's lens can boast a Maximum Video Resolution of 1920 x 1080 (meaning 1080p Full HD video), working at a maximum of 20fps (these values are self-adaptive during network transmission). The camera's Video Compression runs as H.264 Advanced Video Coding, which means that you get MPEG-4 files as an end result for the camera's "CloudPlay" Cloud storage solution (which is sold separately, mind you).
The camera's H.264 Video Compression works as its main recording / video storage profile, no matter if you have the camera running in Ultra-HD, HD, standard or even with its Adaptive bit rate (which is self-adaptive). Users can get a Maximum Bitrate of 2Mbps for the camera's high-quality video.
Not only that, but thanks to the camera's 3D DNR (Digital Noise Reduction) technology, the camera's image processing algorithm can accurately eliminate almost all of the visible noise from its video/image.
Additionally, the camera's 2.8mm Wide-Angle Lens also integrates a IR-cut filter with auto-switching, which basically allows visible light to pass through, thus reflecting unwanted infrared, which ultimately allows the camera to make its image more akin to what users can see.
Speaking of infrared, the EZVIZ C1C Indoor Wi-Fi Camera is a great camera for any homeowner that's looking to have a 24/7smart home security system. That's because this reliable smart Wi-Fi camera also offers its users a sharp night vision functionality. Ultimately, the camera's Infrared Night Vision can work up to 39.37 ft (12 m), making it perfect to safeguards every corner without illumination of any room within your house, no matter how large that room might be.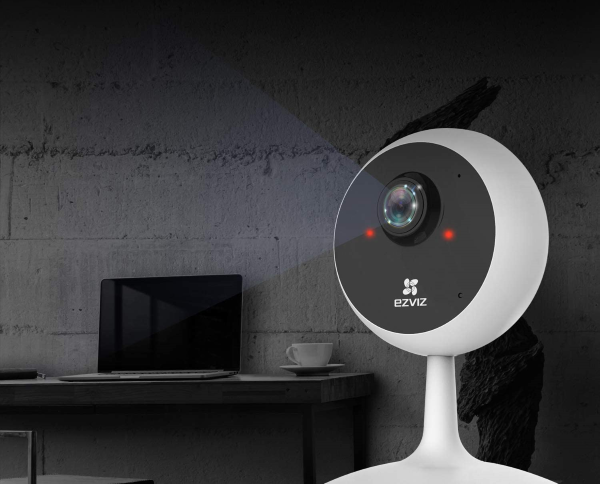 Lastly, the camera also comes equipped with a built-in Microphone, which is located at the camera's front-side, integrated close to the top right of the unit.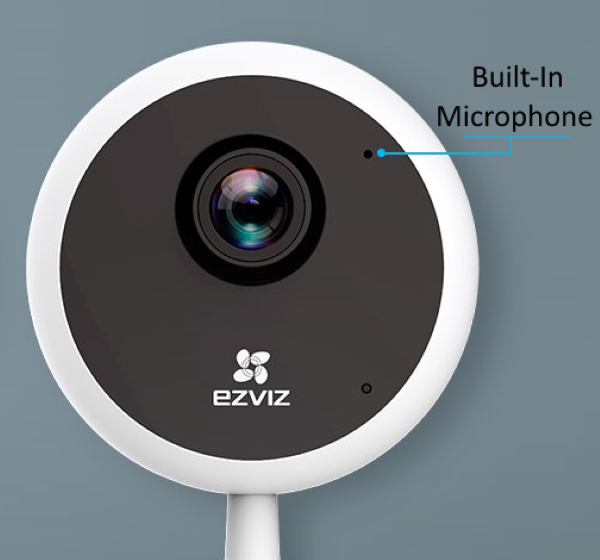 This powerful built-in microphone empowers the camera and its users with a reliable Two-Way Talk system that can easily be used within the Smartphone Companion App (the EZVIZ Smart App – discussed in detail further ahead).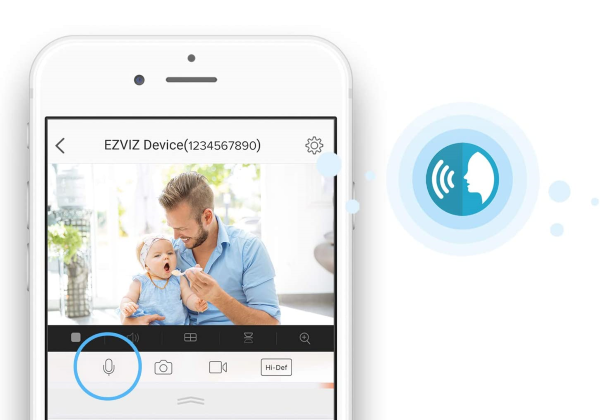 CONNECTIVITY
This smart indoors camera features 2.4GHz Wi-Fi connectivity, supporting the most common Wireless Standards (802.11 b/g/n), and its wireless connectivity supports a Channel Bandwidth of 20MHz and a transmission rate of either 11 Mbps for its 802.11b standard, 54 Mbps for its 802. 11g standard, or 72 Mbps for its 802.11n standard.
Regarding the camera's wireless security configurations, it features 64/128-bit WEP, as well as WPA/WPA2, and even WPA-PSK/WPA2-PSK.
Moreover, it's also worth to point out that the EZVIZ C1C Camera also comes equipped with a Micro SD card slot, which means that it also supports any standard MicroSD Card with a memory up to 256 GB.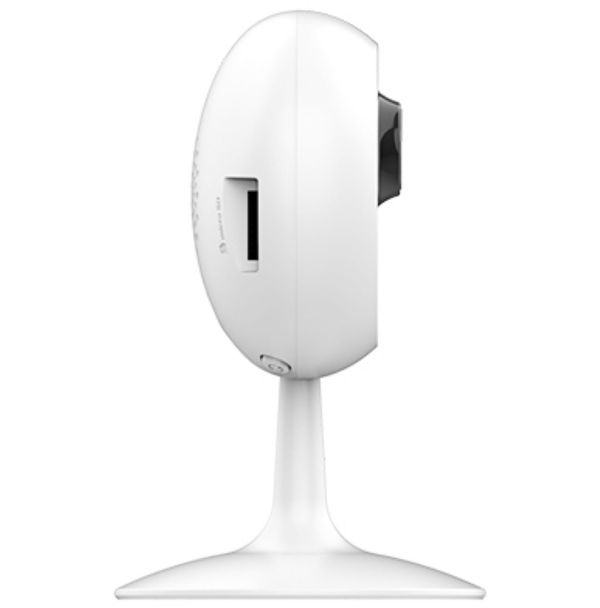 SET UP / INSTALLATION
As mentioned earlier, installing the camera is extremely easy. While it's small size and ultra-lightweight allow users to easily place and position the camera wherever and however they want, the unit's built-in magnetic base, integrated 360º swivel and the included mounting kit make installing the smart camera a breeze.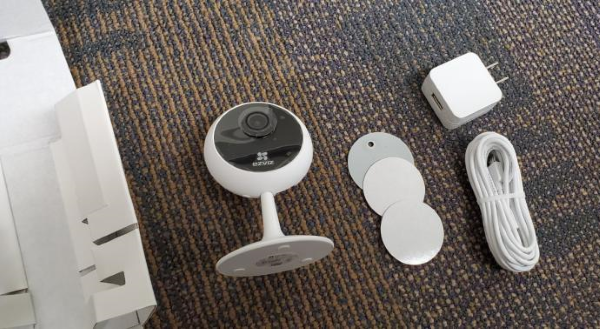 Literally all you have to do is place your EZVIZ C1C Indoor Wi-Fi Camera on top of a shelf or ultimately clamp it to either a wall or the ceiling, and you're all set up.
Since this camera is powered by its included Micro USB AC Power Adapter, right after placing the camera on your desired spot, all you have to do is connect it to its included Micro USB Connecting Cable. The camera's power adapter works as a DC 5V±10% Power Supply, which features a Maximum Power Consumption of just 4.0W, so leaving the camera running 24/7 won't make a big impact on your power/electricity bill.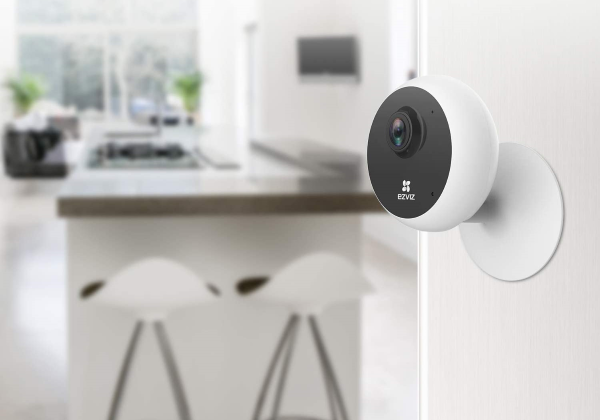 Lastly, after placing the camera on your desired spot and connecting it to power, simply adjust the camera's position manually by pointing its reliable HD lens to the area that you're looking to monitor.
OTHER NOTABLE FEATURES
Smart Video Features
This camera also comes with a couple of Smart Video Features, including Motion Detection (with potential Smartphone Alerts that can be activated via the Smartphone App), as well as Anti-Flicker, Dual-Stream, Heart Beat, Mirror Image, Password Protection, and Watermark.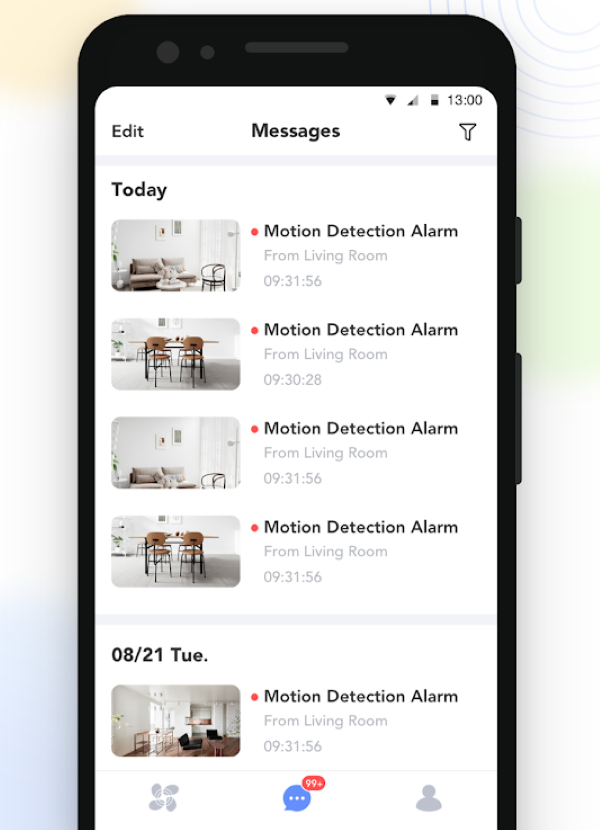 THE SMARTPHONE COMPANION APP – The EZVIZ Smart App
As mentioned at the beginning of the article, users can download the camera's proprietary Smartphone Companion App for free, for both iOS and Android devices, so that they can ultimately view what's going on inside their home, from anywhere and at any time.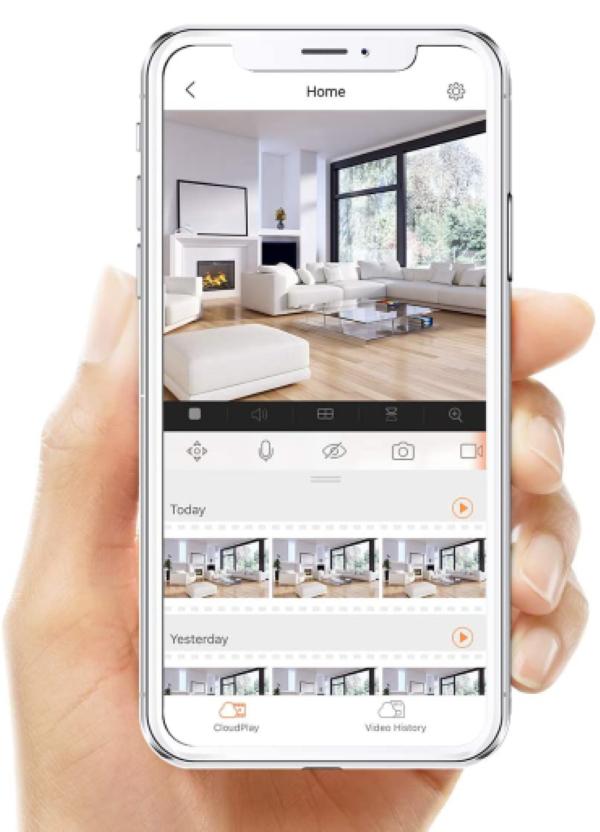 The App, which is simply called the EZVIZ Smart App provides users with an easy way to manage all of the Smart Home security features offered by the EZVIZ C1C Indoor Wi-Fi Camera.
Reliable In-App Controls
Within the App, users are offered quite a few In-App Controls, including Live-Video-View, Real-Time Talk through the camera's Two-Way-Talk system, up to 8x Zoom for the camera's 1080p Live Video, and even a Video History that can be checked at any given moment.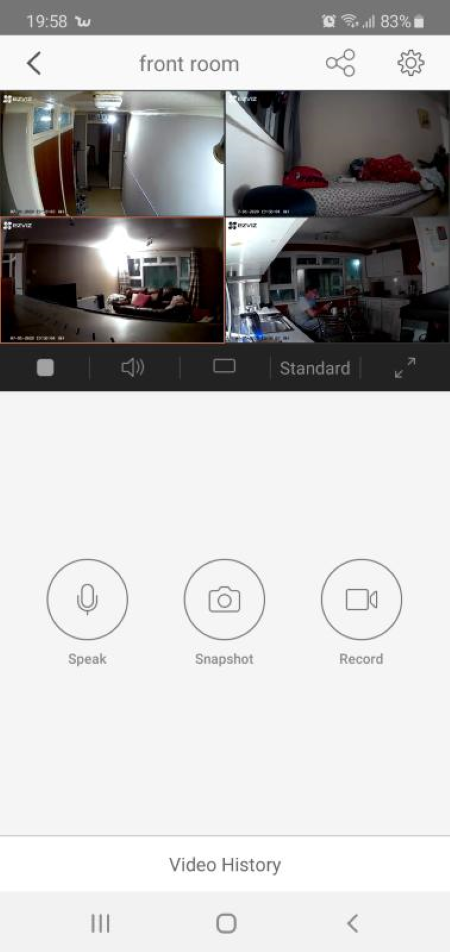 Instant Smartphone Alerts / Notifications
By configuring the camera's Motion Detection feature, users can also set the App to send them instant Smartphone Notifications whenever the camera detects movement while they're away from home.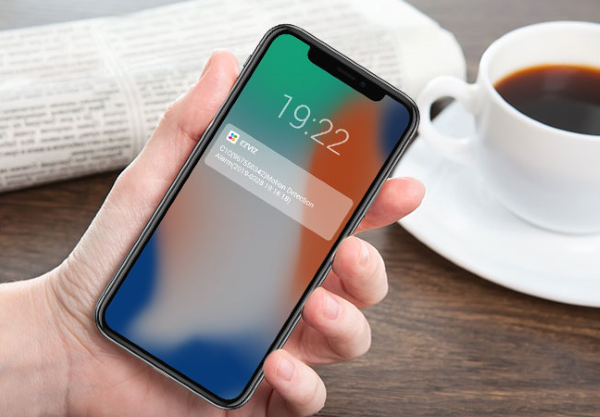 THE COMPUTER APP – EZVIZ PC STUDIO
Just like the Smartphone App, users can also download the desktop version of the App, which is simply called the EZVIZ PC STUDIO.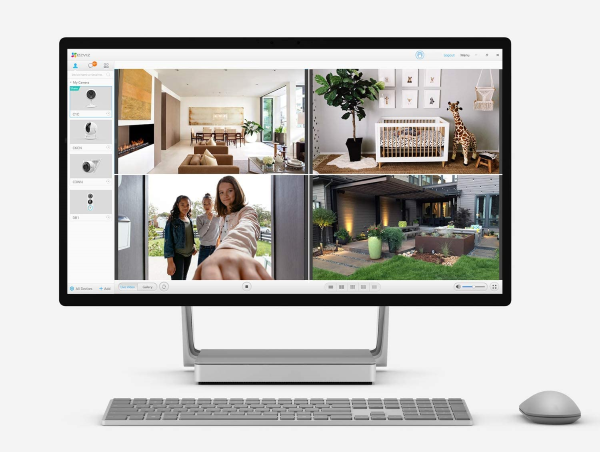 With this desktop App, you can unlock advanced desktop controls for your EZVIZ C1C Indoor Wi-Fi Camera.
FINAL THOUGHTS
The EZVIZ C1C Indoor Wi-Fi Camera is a reliable camera for any Smart Home, featuring 1080p video, support to Micro SD Cards, In-App notifications, and much more.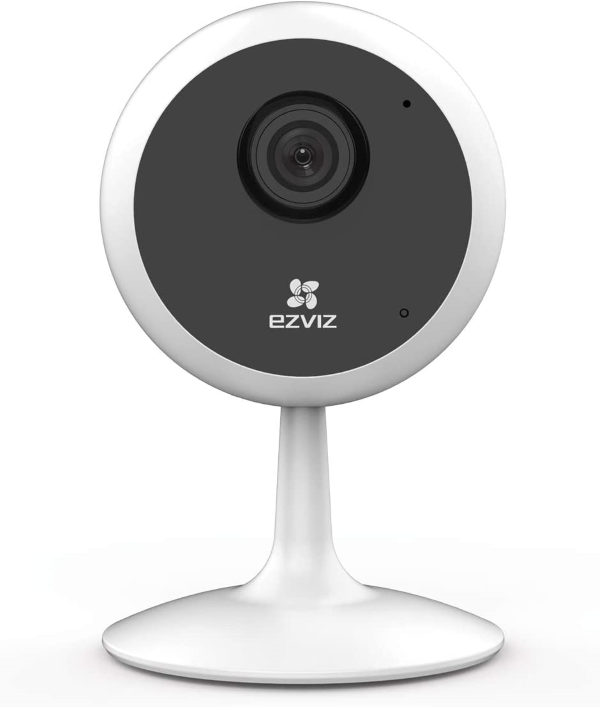 With it, you can keep both your Smart Home and your beloved family safe without ever having to break the bank by investing on a state-of-the-art security system.
If you're interested in buying it, each unit is currently going for $25. You can order yours online either from Amazon, Walmart, or The Home Depot. Clicking any of the provided links will take you to the corresponding shopping pages.
Additionally, and as mentioned earlier, users can also opt to subscribe to the company's "CloudPlay" service, which is the camera's dedicated Cloud Storage Solution.
This service ultimately brings users 24/7 Continuous Local Recording Options, working together with the company's proprietary 256 GB Micro SD Card (sold separately), a dedicated EZVIZ device for data transmission and storage of the recorded video feed (also sold separately), and even an Optional Cloud Storage Plan (subscription-based) within the company's ultra-secure servers.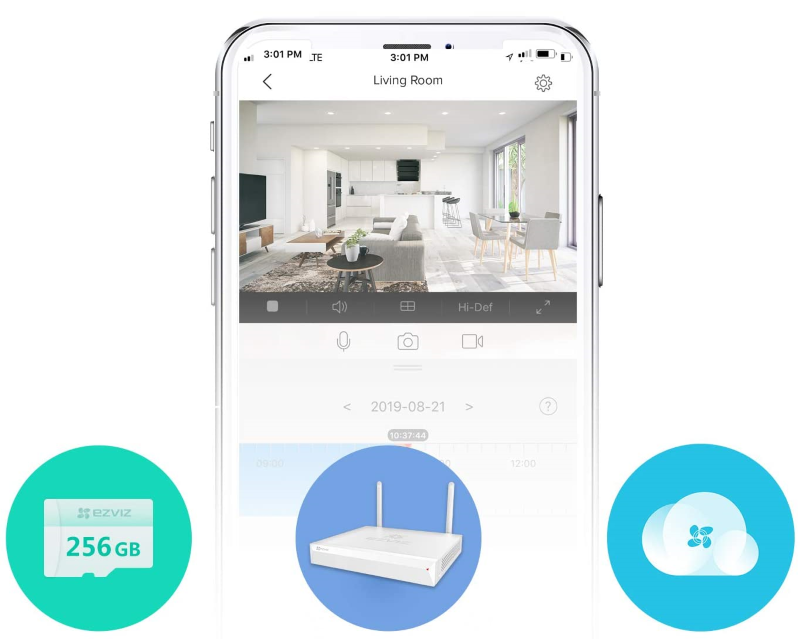 Simply click this link if you're interested in knowing more about EZVIZ's CloudPlay Service.