INTRODUCTION
Trust is one of the fundamental pillars in building meaningful relationships and ensuring that your business succeeds. As Marc Benioff, CEO of, Salesforce puts it: "What is the most important thing in your company — is it trust or is it growth? If anything trumps trust, we are in trouble… You have to choose what is really important to you. We are in a new world… and trust better be number one."
It isn't easy to quantify how significant trust is to a business. As an eCommerce business owner, the lack of trust could be your biggest downfall that could drag you to failure. It takes years of hard work, resources, and different types of trust badges to build trust. On the contrary, destroying your trust takes just minutes.

Although trust plays a significant role in the success of eCommerce businesses, it seems that most eCommerce merchants are not giving it the attention and focus that it deserves. Most claim that it takes time and a lot of resources to build trust. However, this is not the case. Your customers will trust your eCommerce business based on what they see and experience. The most efficient and cost-effective method that you can use to acquire trust is by using trust badges. Read on to know what trust badges are and some of the best types of trust badges you can acquire for your eCommerce business.
Trust Badges in Ecommerce
As the name suggests, a trust badge is a badge that you place on your eCommerce website to try and earn your web visitors' trust. Your customers, clients, and web visitors want to ensure that your business is what it says to be. And they have a good reason to be hesitant. The world is witnessing a tremendous increase in fake websites, and most web visitors want assurance that your website is safe, authentic, and genuine. So, it would be best if you had trust badges to provide the assurance.
You will most likely find the trust badges on the checkout pages. However, the trend is changing, and most eCommerce website owners are now placing them on home pages and landing pages. Some of the trust badges provide security to all clients' sensitive information such as debit card details, credit card details and social security numbers. One perfect example of a trust badge that plays a crucial role in web security is the SSL certificate. We shall discuss this later on in this article. For now, let us look at the various types of trust badges that will be ideal for your eCommerce website.
Types of Trust Badges
There are five main categories of trust badges that you should add to your eCommerce website. Each badge will have a different meaning and purpose. Therefore, you can choose which trust badge you intend to use on your eCommerce website based on what you desire to achieve. Below are the different types of trust badges.
Guaranteed Safe Checkout Trust Badge
This is one of the most popular trust badges that you can go for. It is also the most essential of all the five badges. The safe checkout badge is the one that you will get when you sign up with a company that provides a Secure Socket Layer (SSL) certificate. The SSL certificate is a security protocol that encrypts the information shared between a connection. It secures the information transfers between the web browsers and the web servers, ensuring that no intruder can access the communication or read it. Only the intended recipient who has the right key to decrypt the information will be allowed to do so.
This badge assures your web visitors that their checkout process is safe and secure. In addition, it proves to your customers and clients that all the information they have shared with you was encrypted and that their identity and sensitive information such as their debit card numbers, social security numbers and health records are encrypted. As a result, this badge has a tremendous impact on the overall conversion rates of your business.
There are three types of SSL certificates that you ought to know. They are The Domain Validation, Organization Validation and Extended Validation.
The EV SSL Certificate is the ideal SSL candidate for an eCommerce website as it offers the highest validation level. You may apply for one, if your business has been in existence for at least three years. You should acquire your EV SSL certificate from a trusted certificate authority.
Another perfect example of a popular and trusted security system is PayPal. Like Symantec, you can also buy protection from PayPal and receive a trust security badge for your eCommerce website. You must display these badges next to your Add to Cart icons and on your checkout pages. You can also place them at the bottom of your landing pages or your homepage.  The badges should be clear and visible to have a perfect effect.
Accepted Payment Trust Badges
Nothing gives your web visitors confidence, then seeing the brands they recognize. Accepted payment trust badges are meant to do just that. In addition, listing recognized payment options on your website will give your web visitors confidence to transact with you. Some of these payment options might include Visa, Mastercard, American Express and PayPal. You do not have to do any legwork; all you need to prove that you have these payment options are the logos to the respective options.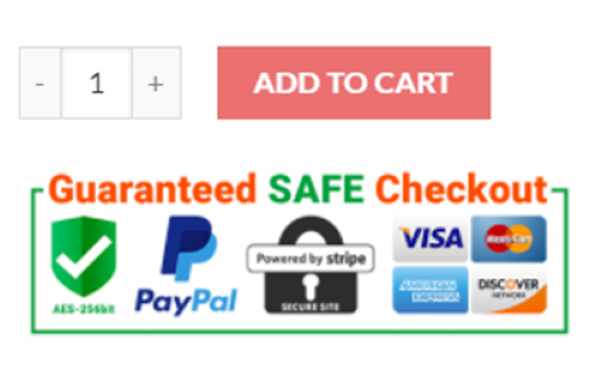 According to a study conducted by ConversionXL, 42% of the respondents said that they mostly recognized Visa and Mastercard. The same survey also revealed that PayPal is the most trusted payment option. The good thing about these brands is that they are free and easy to get. The badges will mostly appear at the bottom of each page on your eCommerce website.
Free Shipping and Free Returns Trust Badges
A free shipping or free returns trust badge will introduce a feeling of safety to your customers. When your clients know that they can return any of the products they purchased for free, they will not have any doubts about ordering from an eCommerce store.
This badge can fit anywhere on your website. However, I recommend that you have the free shipping and free returns badge on the checkout page and the add to cart page for utmost trust. You can also include the badge on the home page or the FAQs page.
Third-Party Endorsement Trust Badge
Third-party endorsement trust badges are one of the most popular trust badges. These trust badges showcase the credibility of a business. Before you acquire the badges or the related program for your eCommerce website, your business will first need to go through a verification process. They help you prove to your customers that you are an established business. Some common examples of third-party endorsement trust badges include Accredited Business, Google Customer Review, and Better Business Bureau.
As I have already mentioned, acquiring this type of badge requires that you do extra work. You will have to submit an application and undergo a review and approval process before being allowed to have the badge.
Money-Back Guarantee Badge
Last but not least is the money-back guarantee badge. It is one of the most efficient trust badges. This badge eliminates your clients' fear concerning the risks they might have if they buy or shop online from your eCommerce store. Although the badge does not address any of the technical issues involved, all it does is assure your customers that you have their best interests at heart and that they will receive their money back in case of any uncertainty.
Money-back guarantee trust badges are entirely free. You can design the badge yourself or hire a professional to do the task for you. You can also get some free downloadable versions online. After you have the badge, you should then display it loud and proud to ensure that every website visitor notices it. Therefore, it would be best if you placed it next to the other trust badges.
Why you Need Trust Badges for your Ecommerce
Trust Badges in Improving Conversion Rates
You probably have heard the stories of how people lose their identities, money, sensitive details and much more simply because they attempted to buy a product online. Website visitors who visit your eCommerce store for the first time need assurance that your website is safe before they can go ahead and do any transaction with you. Most potential customers end up abandoning their cart because they find eCommerce stores unfit or insecure. This explains why 75% of eCommerce customers end up abandoning their carts.
Trust badges are the solution to shopping cart abandonment. If you want to increase your conversion rates, you should try out trust badges. Trust badges assure your web visitors that they are safe and there are no risks involved when transacting with you.
Trust Badges as a Website Security Measure
The primary purpose of an SSL certificate is to provide encryption to the communication between web servers and website browsers. Although it plays a critical role in gaining your users' trust, that should not be the primary reason why you should acquire the certificate. For the safety of all your website visitors, you will need to purchase a cheap SSL certificate. The EV SSL certificate will be the ideal option for your eCommerce website.
Trust Badges as Proof of Verification and Accreditation
Before you acquire an Accepted Payment badge for your eCommerce website, you will first need to verify your security check. Apart from this verification, the payment service will continually monitor your dealings, and if anything, malicious is noticed, your payment service will be suspended. The fact that you have a trust badge from a trusted payment service proves that you have been verified as credible and legitimate to operate.
CONCLUSION
For your eCommerce business to succeed, your customers ought to trust you. Trust is an important thing that can determine the success of your business. It takes years of hard work to build trust. However, it could take you less to build trust for your eCommerce store if you have trust badges.
This article has explained the meaning of trust badges, the different types of trust badges and the reasons why trust badges are so vital for your eCommerce store. You should acquire these trust badges if you want to earn your customers' trust, improve conversion rates and see your business grow.