As all Smartphone users are most likely aware of, WhatsApp is one of the most used Chatting Apps that are available for both iPhone and Android devices, mainly due to the App's easy-of-use and accessibility as well as to all of its functionalities, including its many different user-focused privacy and security features. What's more is that those same privacy and security features just got even better, as WhatsApp just recently launched End-to-End Encryption for User Backups, for which this newly added security layer will very soon be available for both iPhone and Android.
What makes WhatsApp such an appealing Chatting App?
So, as said before, one of the most important features that makes this Chatting App is none other than the fact that WhatsApp ultimately offers its users end-to-end encryption, which means that all instant messages, voice calls, and video calls made between WhatsApp users are completely protected from snooping. In other words, only the parties (meaning the users) involved in a chat have access to the messages and contents exchanged on the platform.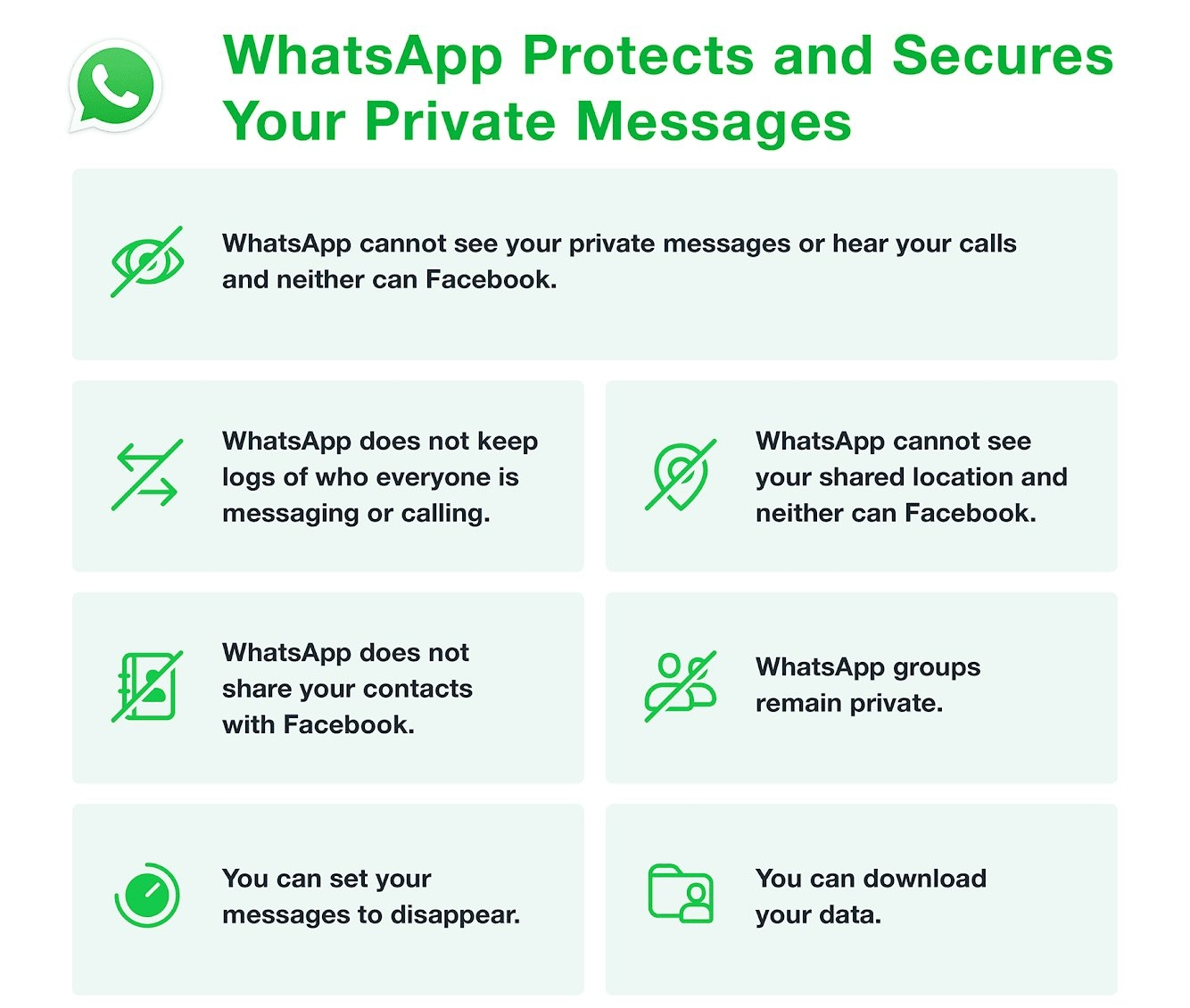 However, WhatsApp's backups are not encrypted with the same strong security, or at least they didn't use to be; until now, that is. As all WhatsApp users should know, each user can easily and conveniently make a backup of all of their data, which is then stored on separate cloud services that, unlike the Chatting App itself (WhatsApp), don't belong to Facebook. Checkout SoftGoza to learn how to download these apps in simpler steps.
That basically means that anyone with access to those cloud services would also be able to access the contents in those backup files, like the contents within the instant-messages conversations from different users.
Newly added End-To-End Encryption for Whatsapp's Backup Files
Nevertheless, thanks to a recent update, that is finally no longer the case. To be a little more specific, Facebook has just recently rolled out an end-to-end encryption method that's used specifically for WhatsApp's backups and backup files. The end result is that this newly added security feature basically adds another layer of privacy and security to each user's instant messaging experience while using WhatsApp, which is something that definitely not all Chatting App actually do for their users.
It's worth noting that WhatsApp had already started to test their new backup-encryption method a few weeks ago on Android, and while this was supposed to not be announced already, just like pretty much any other newly added WhatsApp features, the information about the added support to backup encryption was quickly leaked, as testers could take advantage of it.
As a result, this past Friday, Facebook ended up rolling out the support to end-to-end encryption to all WhatsApp backups, and as such, all WhatsApp users can now finally take advantage of this newly added security feature.
According to Facebook, all WhatsApp users are already able to back up their WhatsApp chats both to Google Drive as well as to iCloud. The best part about all of this is that WhatsApp doesn't have any access whatsoever to any created backups, as it is the cloud storage service provider that ultimately handles all of the backup files' data security.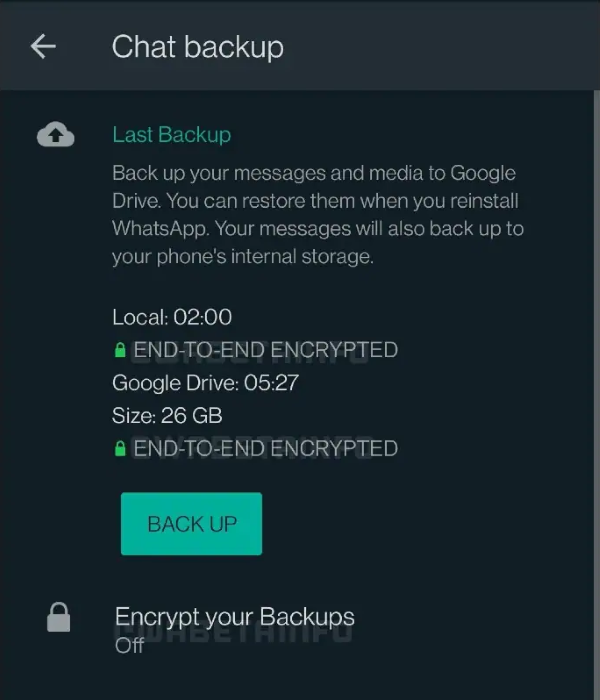 How this End-To-End Encryption Method works for WhatsApp's Backup Files
Now, for those a little more curious about how this newly added end-to-end encryption method works for WhatsApp's backup files, here's a somewhat brief, yet still detailed explanation.
First and foremost, it's important to note that this end-to-end encryption method for each WhatsApp user's backup files will ultimately make it impossible for the backup service providers themselves to access the backups. That is, unless they or any third party manage to obtain a password or a 64-digit encryption key that can be used to then decrypt the already-encrypted backup files from WhatsApp.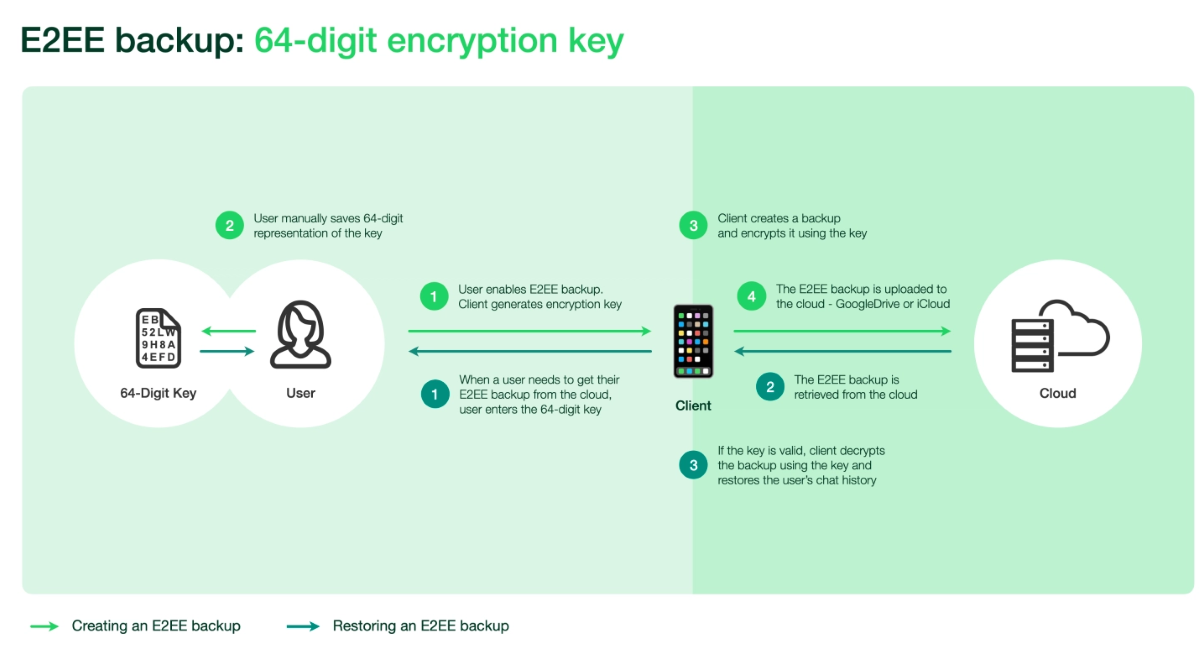 To put it simply, each of WhatsApp's encrypted backup file is protected by a "unique, randomly generated encryption key", for which only the users themselves have access to.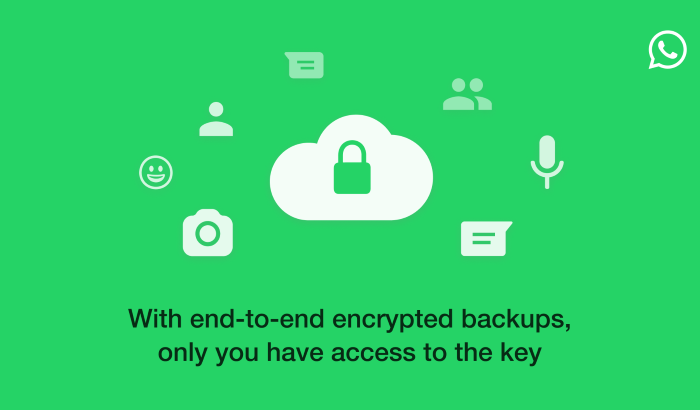 So, for any WhatsApp users that choose to take advantage of these newly added end-to-end encrypted backups, know that you'll basically have to remember either the password or, in last case scenario, the corresponding 64-digit key.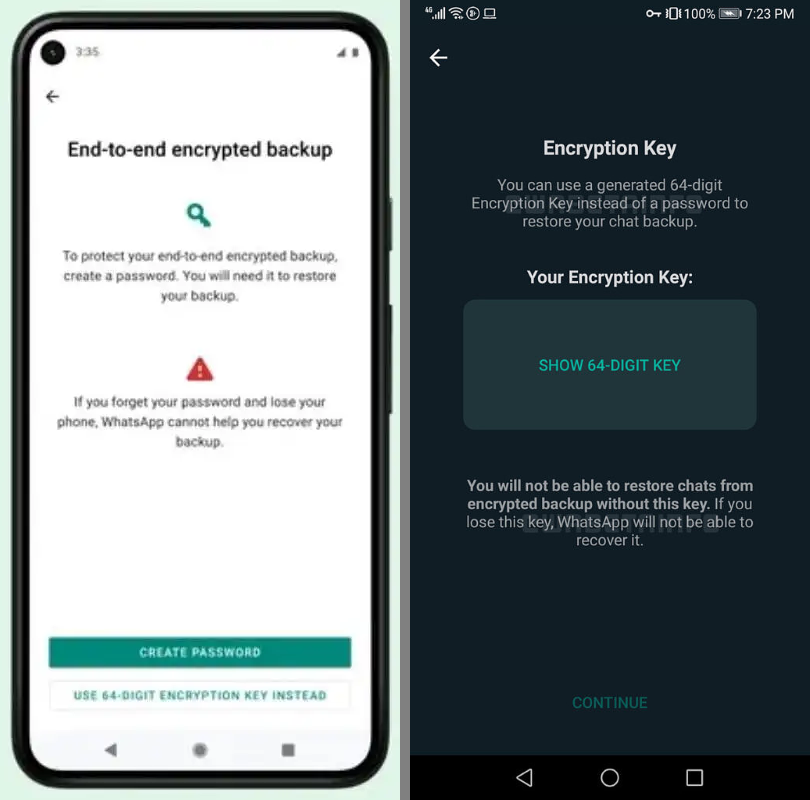 That said, losing that information simply means that those same backup files would remain inaccessible forever, for which not even Facebook would be able to decrypt them for you.
On its official announcement that covers the release of WhatsApp's brand-new end-to-end encryption for user backup files, Facebook also explained that if you choose a password for your backups' encryption key, the WhatsApp App itself will basically store that same 64-digit key in a Backup Key Vault called a Hardware Security Module (HSM), which is managed by Facebook.
Still, this HSM Virtual Storage method can only be unlocked when the correct password is used in WhatsApp, and that's exactly what ultimately makes it possible for the App to encrypt and decrypt a user's backup files.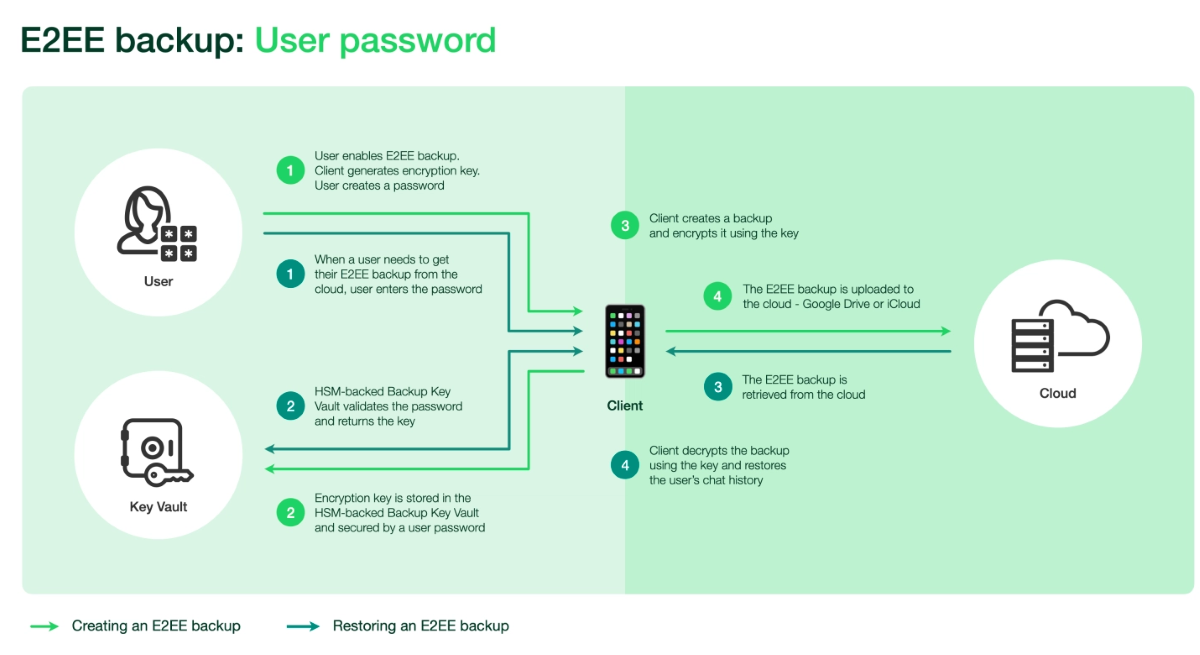 It's also worth mentioning that all of these HSM Backup Key Vaults will be sitting on Facebook's own servers at an international scale, for which they'll be spread across multiple data centers. Thanks to that, they'll always be available to access, even if a data center unexpectedly ends up going offline.
As mentioned before, users will be able to store their own backup files on their preferred storage location, whether that's in their own personal Google Drive, or even in their personal iCloud, and thanks to this newly added security and privacy feature, those backup files will now always be end-to-end encrypted. As such, if anyone potentially finds those backup files, they won't ever be able to read the contents, which used to be the case (and data-security problem) before this new security feature was added, but finally, can no longer happen.
Last but not least, as one last security method for a user's backup files, if someone also attempts to guess a user's chosen password for accessing their personal backup files, Facebook's HSM Storage that's associated with that specific backup will immediately become inaccessible.
As a reminder, WhatsApp's end-to-end encrypted backup files will soon work on both iPhone and Android, and will start to be rolled out in the nearby future. If you're interested to know even more about the tech behind WhatsApp's encrypted backup files, we invite you to check out Facebook's full post on the subject.
Also, read; App Address Overweight Americans' Denial as Cases & Costs Soar