We've all been a victim of slower computer experience at some point. As software becomes more complex, the way in which our computer reacts to these changes has a big impact on the overall performance.
While you can always make some tweaks on the hardware side, there are some solutions you can do on the software side as well. You can save yourself hundreds or even thousands of dollars by using tune-up utilities, such as Advanced SystemCare PC protection.
The application lets you perform an in-depth analysis of your computer and tune up everything required to boost your PC and get rid of all the junk files.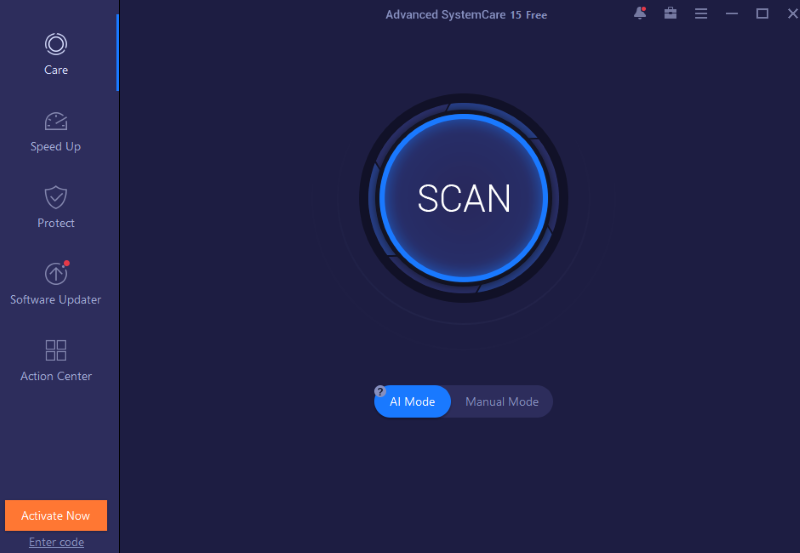 Clean your PC with AI Configuration
Advanced SystemCare is a free PC cleaner that contains several system-enhancing and security-focused features. The application comes built with IObit undelete utility and disk optimization that improves your hard drive performance.
On the security side, the software comes with Homepage Advisor and Firewall protection to protect your windows system all the time. The company has recently fine-tuned their software with AI Mode that when enabled, can intelligently clean and speed up your PC according to the performance status and optimization habits.
Features and Performance
In the middle of the IObit dashboard, you'll get a big scan button that uses the AI feature to detect conflicts on your PC and suggest possible fixes. For starters, it checks for unnecessary startup junk, registry entries, shortcuts, and other files. The tool can also scan your system for spyware, weaknesses, and other security holes.
Besides the optimization option, Advanced SystemCare has tools for protecting your browser as well. However, most of the browsing features are included in the subscription plan.
Some of the other highlighted features include:
Software Health
Ream-time Tuneup
Firewall Protection
Anti-tracking
Large File Cleaner
Interface and How to Use
IObit Advanced SystemCare free comes with an intuitive user interface that is easy to use and operate. All the basic options are listed on the dashboard in form of short icons that can be further clicked to reveal more options.
There's also a very handy desktop widget that shows the runtime operations of your system performance. The installation process is fairly simple and only takes about a minute, depending on your hardware.
Overall, the optimization of the software is great and doesn't come bloated with third-party ads. The scan tool found in the system can trace many weaknesses in our test and showcased thousands of old junk registry entries.
Besides the basic features, Advanced SystemCare also has a Pro version that can further provide you with 30 more random functions. This includes file shredder, context menu manager, empty folder scanner, malware remover, and more.
FINAL WORDS
IObit Advanced SystemCare is an excellent all-in-one system utility that not only improves your system performance but can also protect your PC from external threats. You'll get most of the optimization features in the free package. The Pro version can further upscale these features and can help clean sweep your PC with just a few clicks.