Smartphone, smart watch, smart school, smart home. The list can be extended. The modern era presents innumerable opportunities to make our lives easy, smart, and stress-free. But if a smartphone has already become a device that is indispensable for a modern person, the concept of a smart home is only on its way to becoming a worldwide trend.
The idea of such a type of house is aimed at optimizing all the processes taking place inside your building. It is a system of devices that can solve simple tasks with minimal or no human participation. The same as if you google "do my assignment online" to get your homework done, you can order devices to clean the room or accomplish other annoying household chores. Easy, quick, and practical.
The main tasks of a smart home are ensuring the safety and comfort of the owners as well as saving resources. To solve the first task, the system must monitor the behavior of owners, study their habits, and anticipate their desires. For example, when the owner leaves the bedroom in the morning – the coffee maker instantly turns on. Artificial intelligence ensures security and energy-saving lighting, allows (or does not allow) guests, and monitors fire safety, cleaning systems, flooded areas, drainage systems, and water quality.
Still, to delve deeper into the topic, it is necessary to consider some examples. The following paragraphs will reveal the devices that are to become new trends in 2022.
1. Apple Home Key
In 2021, Apple announced a new feature called "Home Key." To put it briefly, a home key is a digital security code stored in Apple Wallet. One can use it with the relevant application and a compatible smart lock.
Their combination automatically recognizes the nearest door lock and unlocks it. The above-mentioned lock is compatible with Apple's Home Key and HomeKit for complete integration for Apple users as well as control via the Schlage Home app.
2. Masonite M-PWR Door
The Masonite's door is an excellent option for those seeking to integrate smart home technology into their front door. It is the first entrance door integrating power, light, video, and smart lock in one system.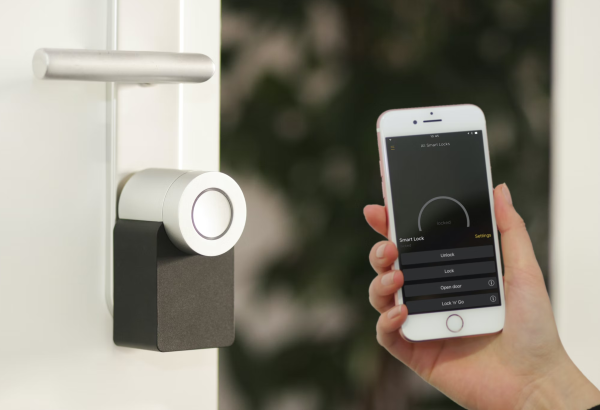 A specially designed Masonite phone app allows homeowners to remotely adjust and control the motion-activated LED welcome light. Most importantly, it allows checking if the door is open or closed at any time. So, forget about returning halfway and running home to make sure the door is closed, and no one robbed you.
3. Eufy Video Doorbell Dual
It may sound astonishing, but according to the research by Finder, about 14% of Americans were the victims of package theft last year. Those packages were delivered right to their doors by couriers. The Eufy Video Doorbell Dual is expected to reduce the risk of thieves encroaching on your latest purchases. This device consists of two cameras facing both upward and downward and covering all of the porches.
There is a reminder feature by which you can set a time for the camera to check your porch and tell you to bring any uncollected packages. The function of protection activates a voice message informing you that somebody is approaching your porch.
4. Samsung Freestyle
A year ago, Samsung announced several new interesting devices in addition to the usual TVs. The company describes it as a "portable screen," but it actually can turn any surface into a screen. It is a projector, a smart speaker, and a night lamp at the same time. And upon closer inspection, you can find many more surprises hidden inside this tiny gadget.
Even though you may doubt the capabilities of a projector (indeed, what can be new about it?), this device has a lot to offer.
Projecting an image from any angle.
Correcting an image automatically.
Creating an image with a diagonal of up to 100 inches.
Adjusting color based on the wall color.
Duplicating images from a smart TV.
Creating lighting accompaniment.
Providing visual effects.
5. Daan Tech Bob Tabletop Dishwasher
Even small households designed for those who live alone can be transformed into smart homes to save the resources of our planet. This one is a perfect solution for flats, where space is not sufficient. Moreover, it uses five times less water than a regular dishwasher does.
6. Coway Smart Care Air Mattress
This new device features a built-in humidifier, air purifier, fragrance, and automatic lights to set the right mood for a calm night and efficient sleep. As soon as you lie down in bed, the mattress gives off relaxing scents. Its backlight slowly dims to make falling asleep more comfortable.
While you sleep, the device distributes clean air from four directions so that you will wake up with your breathing clean. The mattress also monitors body pressure and position to adjust the firmness level automatically.
7. Samsung Bespoke Family Hub
A new smart refrigerator from Samsung integrates with Amazon Alexa voice assistant and Samsung TV Plus service. This device is equipped with several modern features. For example, it contains improved cameras for scanning labels, can create shopping lists, and even buy groceries online for you.
8. Wondercise Cycle Studio
With this device, no one will search for an excuse to skip the gym or postpone the training. The world's first smart exercise bike provides fans of the sport with the following functions:
online exercising
recording training, and even broadcasting
monitoring body movement with statistics
selecting exercises for different muscle groups
Moreover, the simulator features a curved screen and LED lighting. The LED wheels can synchronize with music and change color based on your heart rate or the tempo of the selected workout.
FINAL WORDS
As you can see, the development of technology is not subject to pauses. It constantly moves forward, providing people with new gadgets and devices every year. It is worth noting that choosing a smart home leads to addiction. After purchasing one device that simplifies your life, you cannot stop. You start constantly monitoring the presentation of new ones.
Still, smart homes are the future of our daily lives, so it is great if you can incorporate some of their features into your routine right now.