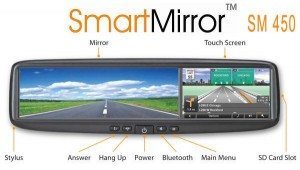 ESCORT Radar, maker of the world's best radar and laser detectors, released the all new ESCORT SmartMirror™. The ESCORT SmartMirror™ is a complete rearview mirror with integrated GPS navigation powered by Navigon. The SmartMirror™ helps drivers maintain a clutter-free windshield, keep attention on the road and keeps them up to date on directions.
The new ESCORT SmartMirror™ provides all the features and advances of GPS navigation without the clutter and hassle of suction cups, mounting brackets, and wires. More than a complete solution, the SmartMirror™ replaces the existing OEM rearview mirror, and once installed, the SmartMirror™ also works as a GPS navigation system that gives the driver real-time direction and traffic information.
Reality View™ displays street level views and previews what is ahead as if the driver were already there. Drivers see and interact intuitively as if they were standing right on the spot. Reality View™ means that there is no more guessing about what the display map lines and symbols mean – instead, displayed on screen is an actual representation of the real world location. And all directions, street names and points of interest are spoken with text-to-speech – audible callouts always let you know exactly where you are and what's ahead.
Bluetooth® equipped, the ESCORT SmartMirror™ allows your calls (compatible phones) to appear on the display and to be answered hands free without physically accessing your cell phone. And the SmartMirror™ gives you the option upon arriving at your destination, to transfer your call from the SmartMirror™ back to your cell phone for uninterrupted conversation – from mobile to land with one push of a button. Or if you're in the middle of a call as you enter your car, simply press the display and your call is now hands free, handled by the SmartMirror™.
The SmartMirror is also compatible with an optional back up camera. With the back up camera installed, the screen automatically changes to show the driver what is directly behind them. Now drivers don't have to worry about blindly backing into obstacles. I installed this upon receiving it, and I'll have to say that it is the best GPS device I've found, bar-none. Where it resides (in the mirror), coupled with the fact that it is a very advanced GPS device, makes the SmartMirror quite a functional piece of hardware. The price is steep, but if you plan on buying a GPS device, spend the extra money. (www.escortradar.com/store/Smartmirror-Mirror-Including-Installation.html, $849.95)