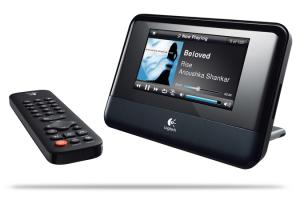 The Logitech Squeezebox Touch, offered by Logitech, is a Wi-Fi music player that you to play music from several sources including subscription services, personal digital files and internet radio. The 4.3-inch color touchscreen allows you to select radio stations, music services or playlists. In addition, you have the opportunity to share/check statuses and music recommendations using this player. The Squeezebox Touch also allows you to view photos and project them on a TV or media player using its built in audio-out and video-out.
The Logitech Squeezebox Touch has onboard stereo speakers and can be integrated into any device. It supports MP3, FLAC, WAV, AIFF, WMA, Ogg Vorbis, AAC and Apple Lossless to name a few. You can also hear MP3, Ogg and WMA internet radio streams using your Squeezebox Touch. It's WiFi b/g connection supports WEP, WPA and WPA2 encryption.
With a 10/100 Ethernet port, a USB host port, SD card slot, stereo RCA output, headphone jack, digital coax and digital optical outputs, your options are long and versitile. The Logitech Squeezebox Touch is also equipped with a proximity sensor and ambient light sensor.
The stereo sound is way above average, due to the 24/96 kHz DAC. You will also have the chance to set up a multi-room system by incorporating Squeezebox players in your desired rooms. With a Squeezebox Controller, you can control each Squeezebox player so that you can use the same playlist or a different playlist in each player. (www.logitech.com, $299.99)