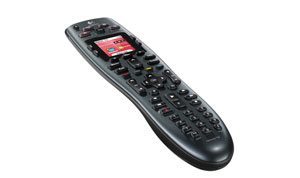 The Harmony 700 Remote can control home-theater systems with up to six devices in a stylish and intuitive package. It includes a sharp color LCD screen for easy browsing of your favorite channel icons, texture and paint finishes that feel great and resist fingerprints, and perfectly shaped, back-lit, soft-touch buttons.
To recharge the 700, simply plug it into a wall outlet when you're not using it. And a convenient low-battery icon appears on the screen when it's time to recharge. The Harmony 700's brilliant color screen makes it easy to see and use what you want. It also displays your commands and devices, front and center, so they're simple to see and select. The Smart Display offers on-screen help if you ever need it.
Logitech supports the whole Harmony line with the world's largest online A/V control database, so your remote works with more than 225,000 entertainment devices from over 5,000 brands. If you add new devices in the future, it's easy to update your remote right from your computer.
With an onboard IR delay recovery feature, the remote will recognize this problem and promptly fix it. The Harmony 700 sells for $134.99 on Amazon or through Logitech.com.