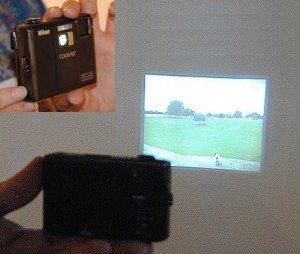 I saw the first consumer microprojectors about 2 years ago, and it was clear that the technology was miniature enough to fit in other electronics. Nikon is taking a crack at that concept with the tiny LED projector in its 12.1-megapixel, $430 compact CoolPix S1000PJ camera.  It casts large, clear images onto a wall, and promises to ressurect the slide shows of earlier eras, without the hassle of actual slides.
The Nikon Coolpix S1000pj is the world's first point-and-shoot digital camera with a unique built-in projector. It is a handsome ultra compact digital camera with an intuitive menu, Optical VR Image Stabilization, 5x wide-angle optical zoom, a fixed-range auto ISO, and D-Lighting to brighten up shadows. It also has a feature called Best Shot Selector, which selects the sharpest out of 10 shots. The LCD is large at 2.7 in. with 230,000 dots resolution and a wide viewing angle. Movie mode is 640×480 pixels 30fps, with sound.
Of course, the main event is the built-in projector. It is easy to use and works well as long as you stay within its parameters: It can throw an image up to 2 meters for an image size of 40 inches. Both still images and movies can be projected, so sharing your pictures and videos with family and friends without having to connect to a TV is not a bad little concept. Just put it on the included stand, point to a (preferably) flat white surface, and press the projector button. The included remote control operates shooting and playback modes.
I can't say this is the most stellar of cameras as picture quality is concerned, but it does add a whole new dimension of media sharing, especially around the holidays. (www.nikon.com, $430)