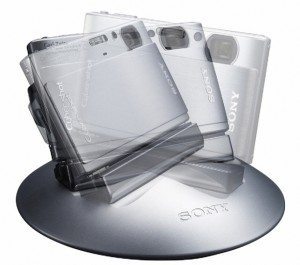 Sony Party-shot™ personal photographer (model IPT-DS1)—an innovative camera dock that pans 360 degrees and tilts 24 degrees, automatically detects faces, adjusts composition and takes photos for you.
The Party-shot camera accessory uses the camera's BIONZ™ image processor with its Face Detection and Smile Shutter™ features to take photos without the user needing to snap the shutter button. This device makes it easy to capture more natural expressions and fun, candid moments of you, your family and friends without having to hire a photographer.
"With the Party-shot personal photographer, you no longer have to worry about taking photos when you are with your family or friends," said Shigehiko Nakayama, manager of the digital imaging accessories business at Sony Electronics. "Party-shot captures candid moments that tell natural life stories and also offers a new style of photography that enriches time with your family and friends."
Compatible with the DSC-WX1 and DSC-TX1 Cyber-shot® digital cameras, the Party-shot camera accessory is mountable on nearly any tripod, so you can set it up in a convenient location in your home, especially when you are entertaining. With two AA batteries, the Party-shot camera accessory captures photos for up to 11 hours and is portable, so you can enjoy taking pictures outdoors. You can also use an AC adaptor (sold separately).
Here are some key features:
Automatic
Snaps pictures at an event – automatically.
Intelligent
Intelligently searches and tilts to follow subjects and take photos.
Dual Shooting Modes
Smile ShutterTM technology automatically detects smiles and Face Detection technology recognizes faces to take photos at the right moment.
Composition
Intelligent composition uses the rule of thirds to compose great shots.
Motion Detection
Motion detection seeks out movement to take photos at the right moment.
Customize
With one touch of the Menu button, you can set the Rotation Angle, Shooting Frequency, and Flash.
Flexible Power
Power up your Party-shot with either two AA alkaline batteries, or with the AC adaptor (AC-LS5 or ACS5K), sold separately and not included.

The Party-shot camera accessory sells for $150 at Sony Style® retail stores (www.sonystyle.com/retail) and at authorized dealers.