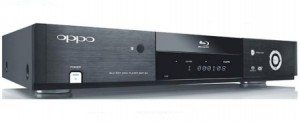 Oppo BDP-83 player is the first true universal player on the market: it can play not only Blu-ray and DVD movies, but also CD, SACD and DVD Audio discs. The player is small and clean, and with all the movie and audio options available today, it's become more desirable to have a piece of electronic equipment that can do it all. The problem is that most universal players aren't capable of really showcasing Blu-ray discs, compact discs, and DVDs very well. Sometimes compromises are made in video and audio quality.
The new Oppo BDP-83 player defies all logic when it comes to home electronics. A reasonable price? A universal player that can handle Blu-ray, DVD, CD, SACD, DVD-Audio and USB without a glitch? Picture and sound quality that is on-par with higher end models? Yes on all accounts:, $500 is more than reasonable when you consider it replaces 1000s of dollars of equipment, and quality matches any single-format player.
Northern California's Oppo Digital has gained an impressive reputation quickly. Owners of its original DVD players have posted rave reviews, not just in product, but also customer service.  The BDP-83 ships with a remote, HDMI cable, analog cables, batteries, a high definition test disc, an audiophile test disc, and an intuitive instruction manual.
The player feels much more expensive than its $500 price tag. The menus are sharp with rich graphics and easy to use.  Blu-ray discs load quickly, and the Oppo BDP-83 produces a stunning picture on most Blu-ray discs. The picture is natural and rich in color, showing off the strength Blu-ray's picture quality. When it comes to DVDs, the BDP-83 squeezes every last digital ounce out of them. Audio sounds like high-end CD/SACD players, crisp and dynamic. By separating audio circuits from video circuits, the player has an open and transparent soundstage. USB files can be played via inputs on the player, it will only playback MP3-type formats, though.
The Oppo BDP-83 is simply a joy to use. It's fast, packs incredible picture quality, sounds like a high end audio player, and looks great. The IR remote is beautifully designed as well. In short, the Oppo offers a lot of flexibility and features for the money, and after producing some acclaimed DVD players, OPPO has created the stellar BDP-83, an exceptional universal player that does everything right.