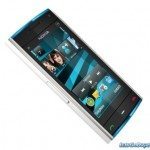 Nokia has disclosed its first dual versions of X Series mobile phone. The first version is named as Nokia X6 and the second version is X3, which is the small brother of the first one. In terms of price and attraction, Nokia X6 is in the higher end and this phone has already generated quite a lot of buzz. The mobile phone enthusiasts are waiting for the release of X6, which is the next Symbian 60 music device from the house of Nokia. The device comes as fully loaded with attractive features such as 3.2 inch capacitive touch screen with 640 x 360 pixels resolution. Other prominent features of the device include FM radio, 5 mega pixel camera, built in 32 GB memory, etc. However, there is no card slot for expandable memory, but no one is complaining as 32 GB is huge enough space to store unlimited music, games, videos or snaps.
Music is one of the most prominent highlights of the Nokia X6, which is touted as the successor of the famous 5800 XpressMusic device. With such a huge memory option, the music lovers can store wide variety of music in huge numbers. The built in music player plays diverse sort of music files such as MP3, WMA, WAV, RA, AAC and M4A. FM radio also adds up to the option of music for the users. Camera of the phone is quite nice too, Nokia X6 features 5 mega pixel camera with dual LED flash, Carl Zeiss optics and auto focus. The snapper is also efficient to record video with VGA at 30fps. For media browsing and video playback, the 16:9 ratio capacitive touch screen provides fabulous experience. The user can also play different sorts of interesting games in this device. It includes some popular games like Asphalt 4, DJ Mix Tour, etc; while the user can also get other games from other compatible sources.
Nokia X6 supports quad band GSM network 850, 900, 1800 and 1900. It also supports 3G network at HSDPA 900 and 2100. With WLAN, Bluetooth, EDGE, USB and TV-out, connectivity options are also varied. The device is powered by the newest Symbian S60 5th edition that can easily integrate all varieties of social networks. Thus, the user can add Facebook on the home screen and stay connected. Considering these features, it can be said that Nokia X6 is a high-end device.