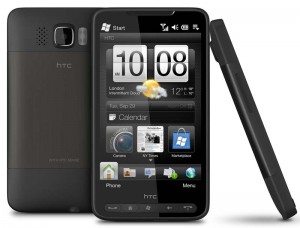 Thought the original HTC HD2 was a large? Try the new HTC HD2 on for size, literally. It has a gi-normous 4.3-inch screen, and I would consider it the best Windows Mobile phone to date with it's 6.5 update. Windows OS is hidden underneath the flashy HTC Sense overlay, last seen on the HTC Hero and HTC Tattoo.
The HTC HD2 has a capacitive touchscreen with multitouch capabilities for zipping about web pages and snaps. It's every bit as good as the iPhone and thanks to the size, this is one of the best browsing experiences we've ever had on-the-go. You also get instant access to Facebook and Twitter updates. The Snapdragon processor should also keep things moving, and the 5 MP camera will replace your SLR. 
The HTC HD2 has all the other connectivity options onboard, Wi-Fi, BlueTooth, etc, so if you're in to Windows Mobile, this is the phone to beat. Should be coming to the US first quarter of 2010.  And because it is GSM, it's probably a good bet that AT&T or T-Mobile will pick it up first. Don't count out a CDMA version either.