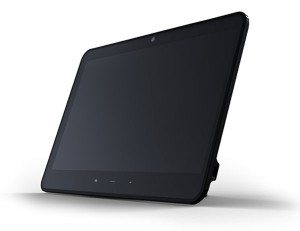 ICD (Innovative Converged Devices) has announced the launch of a new Google Android 15″ touchscreen tablet, the Vega.
Google is pushing more Android devices beyond the smartphone device. The ICD Vega will initially have a 15.6-inch 1366 x 768 resistive touchscreen display, paired with NVIDIA's Tegra chipset processor, 512MB of RAM and 512MB of storage. There is also a microSD card slot for storage expansion and a 1.3 megapixel web camera.
The ICD Vega will run Google Android 2.0 (Eclair), the same new OS update the Droid is sporting . The Vega will also feature built in 802.11 b/g WiFi, Bluetooth 2.1, and built in 3G WWAN data service.
The whole thing measures a neat 373 x 254 x 16 mm, and there'll be a clever desktop docking station onto which the Vega magnetically attaches and then automatically charges, (like the Palm Pre). Battery life is expected to be around 4hrs.
The ICD Google Android Vega also has a built-in accelerometer (like Apple's iPhone), a 1.3-megapixel webcam, dual digital microphones, an ambient light sensor, and a 3.5mm headphone jack.
ICD Android Vega will go on sale in 2010, there is no word on pricing or exact release date as yet, but ICD are saying the Vega will be "low cost" thanks, presumably, to carrier subsidies.  It's unclear which carriers the company is courting, and whether the Vega will be sold without subsidy; however ICD have confirmed that 7- and 11-inch versions will follow.
ICD is expecting to ship the Vega tablet in the first half of 2010 across and throughout North America, Europe, Latin America and the Middle East.