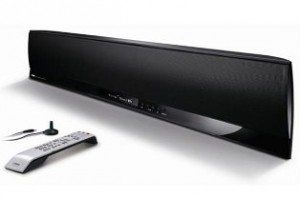 Yamaha introduces the YSP-5100 Digital Sound Projector, a revolutionary single-soundbar device that has the potential to replace all those speakers that you've arranged on the walls or in your room's corners.
At four-feet wide, just shy of four inches deep and weighing 25lbs, the new Yamaha YSP-5100 has been designed to work perfectly with your home theater. The device packs 42 individual speakers behind the grill, outputs nothing less than 120W, copies the specs of a 7.1-channel surround sound system, has five HDMI ports, an iPod connector and a subwoofer output for some extra bass.
Yamaha's latest YSP-5100 Digital Sound Projector™ provides many new great features like HD Audio decoding, 1080p-compatible HDMI (4 in/1 out), IntelliBeam, numerous listening modes, UniVolume™, AirWired™ technology for iPod/iPhone and subwoofer.
Its 40 beam drivers, two woofers and two tweeters with digital amplifiers pound out the HD sound, while the versatile listening modes include: 5 BeamPlus2, Stereo + 3 BeamPlus2, 5 Beam, Stereo + 3 Beam, 3 Beam and Stereo. Adaptive DRC, Music Enhancer and Bass Extension round out these impressive features making the Yamaha YSP-5100 Digital Sound Projector a marvel of innovation.
Compatible with dts-HD, dts ES and Dolby TruHD/Digital Plus/Digital/ Digital EX/Pro Logic and Pro Logic?/x audio, the YSP-5100 is expected to debut in Japan later this month (maybe in time for Christmas) for a not so cheap $2,280. US markets could see the 5100 as early as first quarter of 2010. (www.yamaha.com)