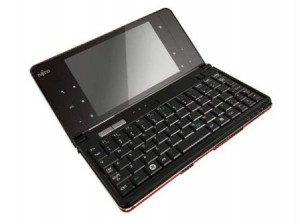 Fujitsu announced the LifeBook UH900, a handheld PC that features a generous 62GB solid-state drive (SSD) storage space and weighing less than 500g. The UH900 also has full Windows® 7 compatibility including multi-touch support.
"Always in the forefront of delivering the latest technology coupled with stylish design and user-friendly features, Fujitsu has answered to the needs of today's consumers for ultra-mobile computing gadgets that exude convenience and style with the new LifeBook UH900. Meticulously engineered and thoughtfully designed, the UH900 raises the bar in addressing the demanding needs of being constantly on the move," commented Mr Raymond Foo, Associate Vice President, Product Marketing and Engineering, Fujitsu PC Asia Pacific.
The Fujitsu LifeBook UH900 is half the weight of a netbook, and less than an inch in thickness. The 20.4cm x 10.65cm body mimics the size of a long wallet and comfortably sits inside any handbags and even your pocket.
The 5.6-inch vivid glare screen is 60% to 80% bigger than commercial mobile handsets. The Fujitsu LifeBook UH900 has a five thumb-controlled Touch Buttons at the flanks of the screen that allow you to control resolution change, launch media programs, or you may program these buttons to your favourite applications.
Combined with a thumb-glide point and buttons that substitutes the use of an external mouse, using the UH900 as a handheld is very intuitive. Besides supporting the new multi-touch capability for two finger touch output, the LifeBook UH900 also comes bundled with a pen for more precise input.
The Intel® Atom™ Z530 processor powered LifeBook UH900 also serves as work-on-the-go companion with the ThinkFree Mobile software for easy access and editing of presentation slides, word documents and spreadsheets. Also onboard is a full suite of wireless connectivity and communication tools such as Bluetooth® support, web camera, stereo mic and an additional integrated 3.5G technology configuration which allows high speed internet access without riding on a LAN.
Featuring the Fujitsu DVD sharing application, wireless sharing of an external DVD from another PC is made effortlessly easy and location-free. The Fujitsu LifeBook UH900 comes in Mocha Black, Fiery Red and Vintage Gold in glossy finish.
No word when or how much the new Fujitsu LifeBook UH900 will cost, but should be released in time for the holidays. (www.fujitsu.com)