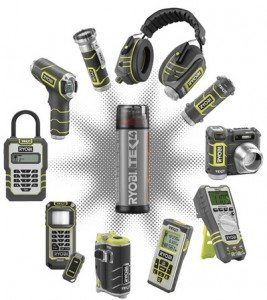 Ryobi's new TEK4 Tool System doesn't use the typical lithium-ion battery pack,.  Instead it is powered by batteries closer in size and shape to AA batteries to deliver more charge cycles and lighter weight in a wide range of new gear. Lithium-Ion batteries aren't new, but these batteries are a much improved hybrid to the rechargeable battery sector.
At the core of Ryobi's system are 4 volt li-ion batteries that swap in and out of about 10 new tools. The slim size of the Tek's batteries means they fit into tools that ordinary AA and AAA batteries do.
Among the TEK4 collection includes an infrared thermometer, a distance measure, and a multimeter. Ryobi TEK4 also has in their arsenal a plumb/cross laser lever that casts a beam 30 feet away, a LED flashlight, and a portable power source- perfect for your Blackberry, cell phone, iPod etc., that includes size different attachments to charge your tech while you're on the road.  Rounding out the system, Ryobi offers a 4-volt digital camera, noise suppression headphones that electronically boost your speech so you can hear things, a motion sensor with an alarm, and a digitally keyed lock.
This series is a stroke of genius, pure and simple. It scoffs at those low-amperage, high-tech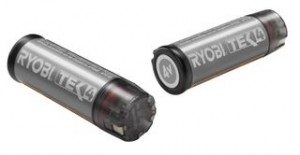 devices that are a constant-drain.  The individual tools are well-designed and perform beautifully. For contractors, it's a major benefit to to be able to replace a lot of devices that use endless power. The tools in the TEK 4 series are for the finer details of a contractor's jobs.
The Ryobi TEK 4 Tool System range from $13 for one 4-volt Tek 4 li-ion battery to $200 for an 8 mega-pixel digital camera that is rugged enough to document your next DIY project. (www.ryobitools.com)