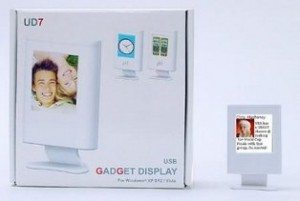 USB secondary displays for your personal computer seem to be gaining popularity steam, but their prices are a bit prohibitive.  Luma Labs has come out with the UD7 USB Gadget Display, which measures just 1.5-inches and costs $30.
The UD7 connects and gets its power from a single USB hook up. It doesn't appear to show up as a completely separate display, however; instead Luma Labs supply software that let you turn it into a digital photo frame, system stats monitor or calendar.
The UD7 is a truly amazing USB drive that lets you connect with any computer, and lets you view Tweets on Twitter, View pictures, and a digital calendar. Think of it like a mini computer screen, constantly giving you system statistics about your CPU, all while acting like a mini Internet device.
Simply connect it to your computer's USB port and it uses the Internet to update Tweets, read the CPU and do other great things, all while displaying your beautiful pictures. (www.lumalabs.com)