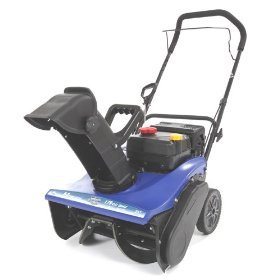 Snow has started to fall.  Perhaps your area of the country has only experienced a light fall.  But think back to last year when you woke up to a crisp winter morning, and couldn't get the garage door up because you were snowed in.  And worst yet, your car couldn't get over that snow mound that had butted itself up to the garage door.
I've experienced it, and it is somewhat of a helpless feeling.  You know all the snow plow trucks are busy in town that morning, servicing the earlier risers….and damn it!  YOU HAVE TO GET TO WORK!!!.
Maybe it's time you invested in a snow thrower. Sure they're somewhat of a bulky item, and you only need to use it maybe 4 to 5 times a year, (or if you live in Minnesota or Wisconsin, maybe 145 times a year), but they sure aren't a bad appliance to have during those snowy months.
The Snow Joe company makes a line of snow throwers that are top notch in their throwing capacity.  I think the best one for the money is the Snow Joe Max SJ803 snow thrower.  It is specifically designed for sidewalks and small driveways in medium or light snow conditions, perfect for the home user.
This unit cuts up to 21-inches wide and 9.05 inches deep in one pass. That's not bad, and you can generally cover a driveway in about 5-minutes.  I'd take that any day over a 3-hour, back-breaking drill with the shovel.
The Snow Joe 803 Max's auger design is single stage, and the augers will also assist in propelling the machine through the snow; making operation light on the muscles. The 179cc Snow Joe Power engine makes sure the auger and scrapper clear straight to the pavement. The chute and snow deflector are manually controlled, and strong enough to stay where they are set to ensure that the snow thrown is thrown where you want it. The augers are controlled from the operator's handlebar, where an ergonomic grip is also included for comfort. Electric starter is standard.
Now I've tested many a snow thrower, and I'll have to say the Snow Joe 803 Max wins a few accolades for throwing accuracy and power.  It's not a beast to push either. With the pseudo-self-propelled feature where the augers also assist in the push, it was not difficult at all to clear an entire driveway quickly and effectively.
The Snow Joe Max SJ803 seems easy to maintain as well. Because there aren't a ton of moving parts, maintenance should only require a minor annual tune-up. And the electric start feature is a tremendous bonus.  This sucker starts, and starts immediately.  I love it.
Other features of the Snow Joe Max SJ803 include a 6-horsepower, 4-cycle engine with US EPA & CARB certification, a .66-gallon tank, and a 180-degree adjustable chute with a deflector to control the height of the snow steam.  All SnowJoe Snow throwers come with a full 2-year warranty. The Snow Joe Max SJ803 runs around $500,( www.snowjoe.com)