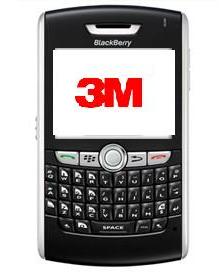 3M Health Information Systems has released 3M™ Mobile Dictation Software, a powerful new application that extends 3M's dictation, transcription, and speech recognition solutions.
Available on the BlackBerry® or Windows Mobile® platforms, the software offers physicians the freedom of using a single device for phone, email, and dictation, and provides "anytime, anywhere" access via Wi-Fi or 3G wireless service. 3M Mobile Dictation is enhanced with a full range of security features that fulfill HIPAA and hospital-specific guidelines for encryption and authentication.
3M Mobile Dictation, a module of the 3M™ Mobile Documentation System, provides always-on connectivity, eliminating the need to synchronize smartphones to a dictation system. The software's advanced technology makes it possible for physicians to view patient lists, search patient IDs, and display the most current patient information on the smartphone screen.
"Physicians are asking for tools that save time and free them to focus on patient care." said Ray Terrill, Senior Vice President, for 3M Health Information Systems. "This new software makes it possible for physicians to dictate using the smartphone they're already carrying. It gives care providers greater control over the dictation process, while still meeting essential data privacy and security requirements."
Using BlackBerry or Windows Mobile smartphone data services, and leveraging industry-leading technologies, 3M Mobile Dictation captures and securely transmits digital dictation files to be transcribed and routed to the hospital information system, electronic medical record or practice management system.
The software integrates with major hospital dictation and transcription solutions, including 3M™ ChartScript™ Software and 3M™ VoiceScript™ Software. Superior sound quality allows seamless integration with speech recognition applications, including 3M™ SyncStream Intelligent Language Processing Software.
3M dictation, transcription, and speech recognition solutions can be integrated with 3M document management solutions and 3M's market-leading 3M™ Coding and Reimbursement System, to streamline workflow across departments. The result is reduced transcription costs, decreased document turnaround time, and improved coding and documentation accuracy. (www.3mhis.com)