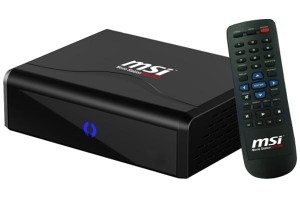 MSI has launched a media streamer designed to be used with your HDTV, the MSI Movie Station HD100.
The MSI Movie Station HD100 comes with a range of features, delivering full HD video to your HDTV in 1080p. It features HDMI, component and composite connections, and you can choose to connect it to your PC via WiFi or Ethernet.
It also comes with two USB 2,0 ports so you can play your videos direct from a USB flash drive or external hard drive, it measures 154mm by 116mm by 28mm and weighs in at just 385g. The MSI Movie Station HD100 has a sleek black finish, complimenting your other hi-fi and home theater components.
The MSI Movie Station HD100 will be available in Germany initially for about $142. No details as yet on when we will see the MSI Movie Station HD100 in the US. (www.msi.com)