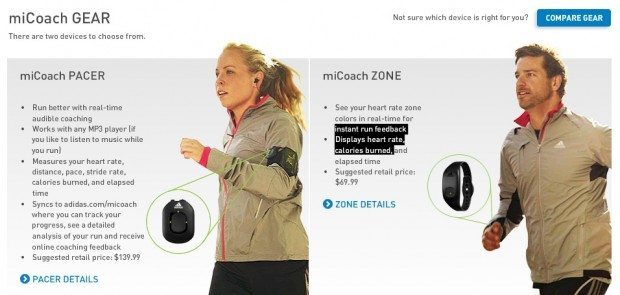 On January 7th,  Adidas will officially unveil the miCoach, a series of products and apparel designed offering personalized online fitness tracking and electronic helper gadgets to bridge the real world/online gap.
The Adidas miCoach system ($70-$140) is like a more advanced Nike+ system. Simply plug in your fitness goals at the MiCoach website, and sync up either the MiCoach Pacer — which offers an audio feedback box, heart rate monitor, and stride sensor — or the MiCoach Zone — which pairs the heart rate sensor with a visual feedback wristband — to receive color-coded workout guidance that tells you when to speed up, slow down, hold steady, or end your workout.[adsense]
Every runner is different, every heart is unique. Your heart rate indicates your level of effort during exercise. miCoach helps you stay within four heart rate zones so that you get the most out of each run. miCoach uses heart rate zones to create varied, complete and personalized workouts. And each zone has its own benefit: Maximum effort boosts power and speed, Hard effort improves your cardio strength, Medium effort extends your endurance and optimally burns callories, and Easy effort builds your aerobic base and improves recovery.
As you workout, miCoach will let you know which training zone you're in—audibly if you're using miCoach Pacer or visually if you're using miCoach Zone. You can sync miCoach Pacer to adidas.com/micoach to analyze your stats and get coaching feedback online.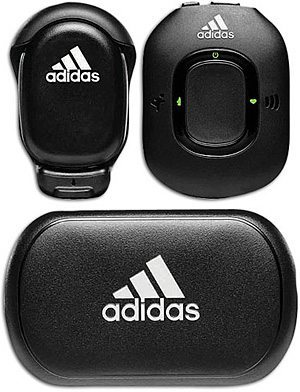 Hardware-wise Adidas offers a heart rate monitor and an optional wireless sneaker attachment that tracks pace, distance, calories and more.  Users of the device are first expected to set their 4 heart rate training zones online which is then transmitted to the miCoach.  Then during your workout the miCoach uses audio or visual cues (there are two types of miCoaches) to prompt you in and out of each zone, maximizing your workout.
The miCoach Zone is the lesser of the two, only tracks your heart rate and costs $69.99, while the miCoach Pacer, which tracks heart rate, pace, stride rate and more, costs $139.99. (www.adidas.com)