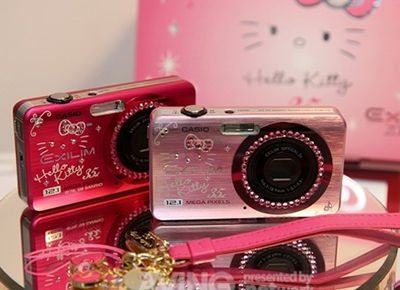 To celebrate the 35th anniversary of Hello Kitty, Casio has launched a new camera model: It is the limited edition Hello Kitty EXILIM EX-Z90, which is initially targeted to Korean market. Actually, this is not the only Casio camera that is themed with this famous fictional character, because there are other ones such as the Hello Kitty EX-Z2 and the Hello Kitty EX-Z80. However, at this time, it is a little difficult to find cameras like these.
The camera was introduced simply as the Hello Kitty Casio and is available in pink and red; besides, it has been decorated with some crystals. In addition, to complement its nice appearance,  the Hello Kitty Casio EX-Z90 also comes with a photo camera case (which is also themed with Hello Kitty prints).
Similar to the original model, this compact EX-Z90 camera has a 12.1 megapixel sensor, 3X optical zoom, ISO sensitivity of up to 1600, and a 2.7-inch LCD screen.
This Hello Kitty version costs 350,000 South Korean wons (in Korea, of course), which is equivalent to about US$ 300.
via: Myddnetwork