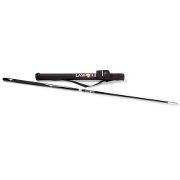 You know that if you need one of these when you're playing pool at your local that you should just give up the game altogether because you clearly can't cut it. The laser guided pool cue is for those that take things way too seriously and has a touch sensor that enables you to quickly turn the tiny laser out and its range will easily cross the length of a full size snooker table. You really can't blame the spin on the white when you use the laser guided pool cue because you will hit the sweet spot every time.
It's the equivalent of about £40 and it has a bag that lets everybody know you're crap enough to have to use a laser guided cue but it also comes with a fine assortment of accessories including six 1.5V batteries (the cue takes three of these) as well as tip scuffers, chalk, and ferrules. Considering the price of a bog standard laserless pool cue that really isn't bad.
In the picture it looks a lot like you should take it fishing rather than carry it into the pub.
Via: Gadgets and Gizmos