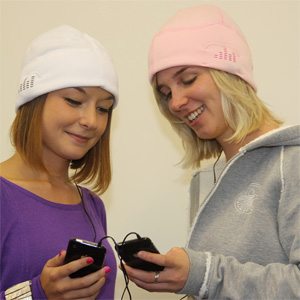 The iLogic MP3 and iPod Sound Hat allows you to connect your iPod, MP3 player, phone or other portable media device directly into the integrated speakers inside the hat!  Listen to your favourite music whilst keeping snug and cosy on a cold day.
This fantastic beanie hat is a great alternative to wearing pesky earphones when you are out jogging.  The MP3 and iPod Sound Hat is perfect for shopping, biking and bouncing around to your favourite Madonna tracks thanks to it's built-in speakers.  You will have no fear of earphone falling out as you leap around like a giant leapy thing and enjoy warmth, comfort and tunes all at the same time.  An ideal gifts for Birthday or Christmas, why not get a sound hat to keep the chill out of your ears and the music in!  Revelation!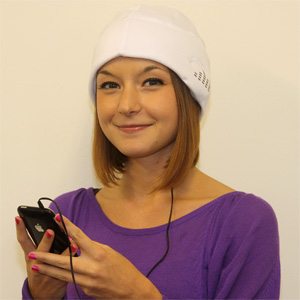 *  The MP3 and iPod Sound Hat for Girls can be connected to your iPod, MP3 Player, Mobile Phone or any other sound device that supports a standard 3.5mm jack.
* The Sound Hat is available in Pink or Cream, please choose from the options above.  Also available in Black so see our related products for details!
* Our Sound Hat is made from 100% polyester and lined with a soft fleece.  It can be hand-washed in warm water…Just remember to remove the speakers beforehand!
* The integrated speakers allow you to listen to your music in comfort without bothering anyone else
* The MP3 and iPod Sound Hat for Girls measures approx 27 cm  x 18 cm x 2cm (Flat) and stretches depending on the size of your head!
* This makes a great gift for ages 10 to 100!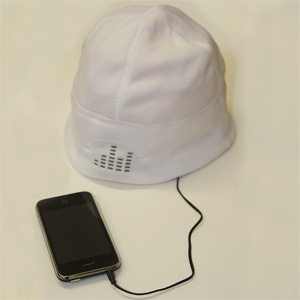 Waiting for the school bus in the freezing cold?  Pop on your Sound Hat and get down to some funky beats before the bus arrives.  This fantastic beanie hat is great for those (like me) who get sore ears whilst wearing earphones that are constantly falling out!
Via: Find Gift