DVK Technologies introduced their latest product – the GNR8-130.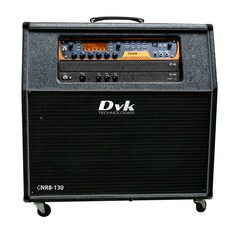 It is 130W powered stereo guitar amplifier cabinet, designed specifically for use with any DSP- or analog-based direct recording device or preamp.
The current crop of guitar modelling and effects units offer incredible realism and versatility to guitarists. Some of the most sought-after vintage tones and effects are now just a button push away. These incredible amp simulations are at our disposal for the first time without the prohibitive expense and bulk associated with classic hardware units.
The GNR8-130 deliver a full range frequency response system with headroom, dynamics, low distortion and the familiar feel and form of a guitar amp. Constrained layer cabinet design and construction ensures the closest possible neutral response. Whatever goes in, comes out a lot louder and unadulterated by amp and cabinet coloring. Tailored to be in line with the GNR8-130's preamp and amp, 2 x 12″ specially selected full range speakers from Lorantz Audio Services (C304P/PA) have been employed to ensure accurate reproduction of any modeller. The flat response of the cabinet, coupled with the true sonic reproduction of the amp and speakers perfectly complements the quality of today's top modelling devices.
The new GNR8-130 will be showcased along with the full range of DVK Technologies products at the NAMM 2010 International trade show.
Via: Music Gadgets