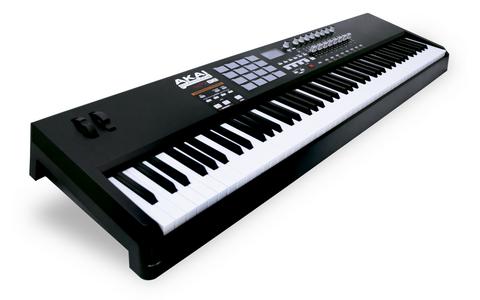 Akai is now shipping one of its latest products – the MPK88 keyboard.
The Akai Professional MPK88 is a professional performance keyboard controller with MPC production controls. The MPK88 draws on the design of the popular MPK49, the first keyboard ever to feature MPC pads. This first-of-its-kind keyboard is ideal for performance, starting with a premium, fully weighted, hammer-action keyboard, adding MPC pads, Q-Link controls, and a selection of MPC technologies. The MPK88 is born for the stage and is equally at home in the studio.
It features an 88-key keyboard and 16 genuine MPC pads. The hammer-action keyboard is fully weighted and features aftertouch for expressive melodic control. The MPC pads are pressure and velocity-sensitive to capture every nuance of your creative concepts. The pads can access four banks of sounds, so you have 64 samples at your fingertips with the touch of a button.
The MPK88 places dedicated transport controls within your reach for easy control of some of the most important tracking and editing controls. The MPK88 has modulation and pitch-bend wheels for expressive musicality, and two assignable footswitch inputs enable you to connect an expression pedal or other continuous controller and a footswitch for momentary controls like patch change or start/stop.
[adsense]
One of the most important input devices on an MPC is its Q-Link assignable control section. Akai Pro built a massive collection of Q-Links into the MPK series. The MPK88 gives you eight virtual knobs that are assignable to control nearly any software parameter. You can control three different parameters per knob thanks to the knobs' three-bank selection, totaling 24 parameters of instant, hands-on control. Like the virtual knobs, eight virtual faders and eight virtual buttons also control three banks of parameters each, so you get 24 virtual faders and 24 virtual buttons. That's 72 Q-Link controls!
The MPK88 is a MIDI controller that sends its MIDI values over USB. It is bus powered, so all you need to connect and power the MPK88 is the supplied USB cable. Because it is MIDI compliant, the MPK88 works with most MIDI recording, sequencing, and performance software for musical performers from keyboard players to producers to DJs and even VJs!
The MPK88 comes with Ableton Live Lite Akai Edition, one of the most popular and powerful performance and production programs in the world. Ableton Live Lite enables musicians to spontaneously compose, record, remix, improvise, and edit musical ideas in a seamless audio/MIDI environment.
Via: Music Gadgets