Palo Alto-based Immunet launches the new company's web site and a public Beta of Immunet Protect, the first free AntiVirus product designed to protect your community.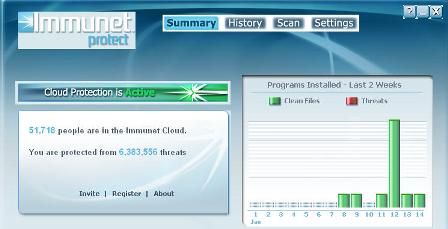 Under development for the past year, Immunet Protect takes a new approach to the decades old virus problem. Immunet leverages the computers of your friends, family and a worldwide global community to harness their collective security. Every time someone in this collective community encounters a threat, everyone else in the community gains protection from that same threat in real time. You no longer have to rely on the isolated security of your current AntiVirus vendor. You will be able to protect your friends and family while being better protected yourself.

"People are still getting viruses at alarming rates and traditional Anti-Virus software catches less than 50% of today's new threats," said Oliver Friedrichs, Immunet Founder and CEO. "We need to take a new approach to this problem. Immunet's Collective Immunity™ is the first to combine Community-based protection, Cloud Computing and Collective Intelligence to protect you better."
Instead of a top-down, centralized and inefficient approach, Immunet uses a bottoms-up architecture by decentralizing much of the analysis and by moving these detections to the cloud. Your computer is always connected to the Immunet Cloud, providing you with real-time AntiVirus protection with a detection set that is always up to date. No more delays, no more updates, and no more bloat. This is the power of cloud computing.
Immunet Protect provides protection by harnessing the collective wisdom of the security products that you already run, as well as knowledge on the applications installed across Immunet's entire user population. Immunet Protect collects security judgments on what is, and what is not safe from its community. These aggregated judgments are coalesced in the cloud, and, if they are sound, made available to the rest of the Immunet Community immediately.
If you already have AntiVirus, even better, Immunet Protect will run alongside Norton, McAfee and AVG, enhancing the protection offered by these more traditional products.
Immunet Protect for the Microsoft Windows platform is free and can be downloaded from http://www.immunet.com.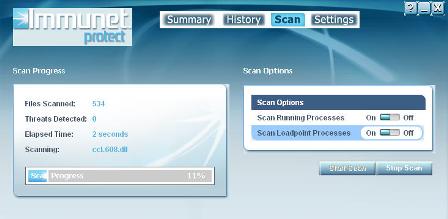 Immunet was founded in 2008 by Anti-Virus industry veterans to address a sweeping shift in the threat landscape. Immunet Protect is the first AntiVirus product focused on protecting your community. Using cutting edge technology and leveraging the collective knowledge of the users in the Immunet Cloud, Immunet Protect defends you in real time against thousands of new threats generated every day. For more information, please visit www.immunet.com. (videos courtesy of immunet and languy99)