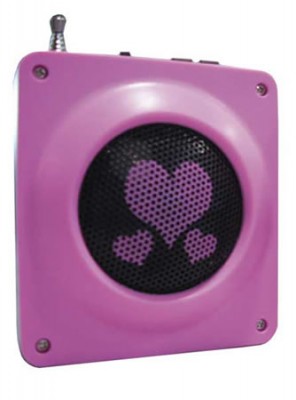 This Pink Hearts Wind-Up Radio allows you to both listen to the radio at any time without worry about batteries and to be able to charge your mobile phone by simply winding the handle.
The Pink Hearts Wind-Up Radio allows you to listen to FM/AM radio stations and finding these stations is simplified because of its auto station finder. The radio has a headphone socket but does not come with headphones. The radio though does come with many different mobile phone adapters for both old and new phones by brands like Nokia, Samsung, Sony Ericsson and Motorola. This then allows you to charge your phone without the worry of finding an electrical source as you provide the power by winding the handle.
Much thought has gone into trying to make this radio as eco friendly as possible. The Pink Hearts Wind-Up Radio comes wrapped in Gekopak Bio-degradable packaging. This packaging has no wires or ties and is constructed solely from recycled paper this makes it easy to open and biodegradable.
The radio measures 8cm x 7.5cm x 3.5cm (3.1in x 3in x1.4in) and weighs 145g making it small and light to carry around so it is always there and ready to go when you need it. With its pink colour and its hearts design it is appealing to women both young and old (though maybe more to the young!).
Via: Coolest-Gadgets