Garmin will released a new GPS device, specifically for bicycles and bicyclists, which has some pretty nifty features exclusive to two-wheel travelers.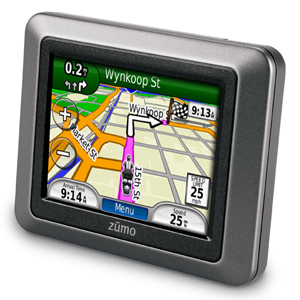 The Garmin Zumo 220 features a 3.5 inch color touchscreen able to display images in 320×240 format. It has built-in Bluetooth that allows text to speech guidance to be sent over to a headset. A lane assist system and off-road navigation will be added as extras.
The Garmin Zumo 220 will launch with preloaded maps of the US, Canada and Puerto Rico, as well as six million points of interest. And if you thought there was nothing to set the Zumo 220 apart from ordinary navigation systems, you should know it's a lot more rugged than other devices. It's water, fuel and spray resistant, and features a touchscreen that can be operated with gloves.
No word about the release date, but the price has been set at $600 (www.garmin.com)