The USB-powered HoverCam all-in-one scanner takes a snapshot of the document placed beneath its lens in a split second, much like a camera, and takes up much less desktop space than a tradional flatbed scanner.
Pathway Innovations and Technologies says their HoverCam's capabilities make scanning, faxing, emailing, archiving and organizing files a quicker, neater and more enjoyable experience.
Documents are filed automatically in RIA format (Rich Internet Application), which is based and developed on Adobe Air 2.0 technology, making it very flexible. There's an anti-skew program built-in and documents scanned on a black background can be trimmed automatically, too.
Images can be dragged and dropped into folders of your choice and PDFs can be created instantly. Its compact design makes the HoverCam even more functional in today's office. It works well with over-sized and irregular documents, as well as regular or smaller sized documents. High throughput scanning is also possible with this device where some traditional scanners struggle to accommodate.
[adsense]
There are two models to choose from: HoverCam X300 (2MP, maximum resolution of 1600 x 1200 (150dpi equivalent) – good for home use, and the HoverCam X500 (5MP) which has a maximum resolution of 2544 x 1936, or 600dpi equivalent. More often than not, 300dpi is good enough quality to publish, archive, etc.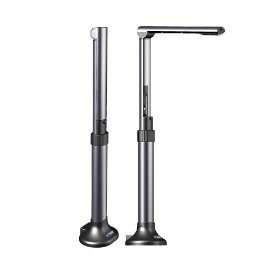 HoverCams come with HoverCam Flex software that links HoverCam to a workstation or the internet to allow easy sharing of digital scans to social networks or private back-ups.
Having a built-in microphone allows the HoverCam to be used as a visual presenter in conference rooms or classrooms, and also works with Skype to allow real time video shows and teleconferences, even in low light.
The company also produces the HoverCam CardPro, a device that scans, stores and organizes your business cards like "a digital rolodex", say the manufacturers. The CardPro can extract the business card information for use in other documents or applications.
The home-use HoverCam X300 sells for US$139.99. The office-use X500 sells for US$199.99 and the HoverCam CardPro is listed at US$79.99 (www.thehovercam.com)