Google has taken the camera rig off one of its Street View cars and slung it on a snowmobile to bring slope view to Google Maps.
If you'll remember when Street View was introduced in 2007, an immersive addition to Google Earth and Google Maps that lets you virtually walk around U.S. cities with a 360-degree view every ten feet or so down each street. You simply click on the "Street View" button while looking at a close-up street map of an included area, and position your little character where you want to see the view from.
Google deployed a car with a 360-degree camera to take shots every ten feet or so up and down every street in cities available on the cloud-ware. As you look around in the picture, you can "walk" to the next photo point. It even tells you the rough address where you're standing.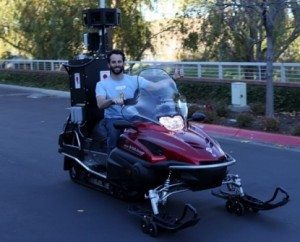 Now web skiers will be able to experience some of the runs the world's best skiers will be racing down when the Winter Olympics kicks off this week. The slope-level imagery complements new aerial imagery of the Vancouver-Whistler area to give sports fans a different perspective of competition venues and courses. (www.google.com/maps)