The Autonomous Saucier is a clever kitchen device that automatically stirs your sauce while you get on with other food preparation.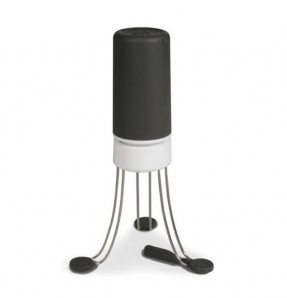 The battery-powered device is designed to stand in a pan and automatically mix and revolve to create any consistency of sauce. It has three stainless steel legs with rubber silicone feet to stay upright in a pan. On one foot is a spatula that rests flush against the bottom of the pan and stops bits of food from sticking or burning. The saucier independently spins and revolves around the pan – making sure the sauce remains smooth and the ingredients and flavors are mixed and infused.
Designed to be used for sauces up to 4" (10.2cm) deep, the saucier has three speed settings to help you create the exact sauce consistency. The silicon feet won't damage your non-stick cookware and can withstand temperatures up to 572º F (300ºC). The legs can be removed and are dishwasher-safe and the four AA batteries (included) will provide up to four hours of sauce stirring. The device weighs 12oz (340g) and is 6″ (15.2cm) high and 5" (12.7cm) in diameter.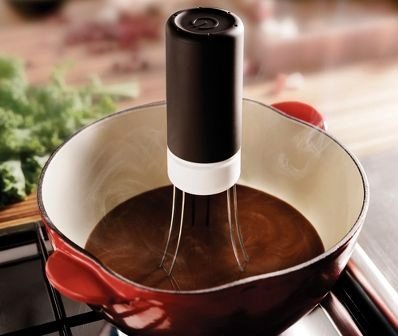 The Autonomous Saucier costs US$39.95 and is available from Hammacher Schlemmer Catalog. www.hammacher.com
Publised on: Feb 22 2010