The Intel Classmate PC, which features a convertible clamshell design, is part of the Intel Learning Series line.  These low-cost PC's are built to withstand the rigors of school use while providing educational opportunities to children in developing countries.
Built with enhanced e-reading capabilities and improved energy efficiency, the Intel-powered convertible classmate PC is a clamshell that turns into a touchscreen tablet by way of its swivel screen.
An integrated handle makes the device easy to cary, while a palm-resting feature ignores the touch of hands resting on the touchscreen in tablet mode, allowing students to write and draw naturally. A built-in camera at the top of the screen can be rotated so students can capture images and video of themselves and their classmates.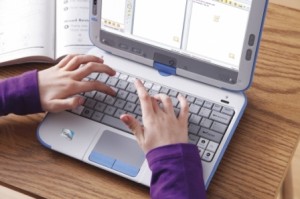 The device is powered by an Intel Atom processor and features a 1024 x 600 resolution touchscreen measuring 10.1-inches. The unit comes with integrated Wi-Fi with options of 3G, GPS and WiMAX. An optional 6-cell battery provides up to 8.5 hours of running time.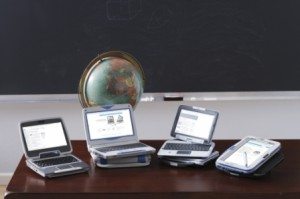 The keyboard, touchpad and screen are water-resistant and there's also a anti-microbial keyboard option available. A built-in accelerometer detects tilting of the unit and adjusts the display between portrait and landscape modes accordingly, and the new unit also offers improved durability.
[adsense]
The PC also comes with a range of touch-optimized software including camera application, eReader with PDF and ePub support, handwriting recognition in multiple localized languages, note-taking and painting/drawing applications and pen-input support.
Like other classmate PC's, the Intel-powered convertible classmate PC features a flexible design to better serve as a platform for local technology companies to customize and produce the PC under their own respective brands. The convertible classmate PC is aimed at a similar target market to the not-for-profit One Laptop Per Child (OLPC) project.
Products based on Intel's new design will be introduced later this year at a price to be announced. (www.classmatepc.com, www.intel.com)
Published on 6 March 2010