The Eureka Hard Surface Floor Steam Cleaner is a fast and effective way of cleaning hard surface floors without the need for chemicals. By using steam it cleans the floor surfaces effectively, drys quickly and also kills germs.
The Hard Surface Floor Steam Cleaner made by Eureka heats up water in around 4 minutes to a high temperature to steam clean any hard surface floor. Due to the temperature the steam kills of germs such as E. coli or salmonella that are on the floor while removing dirt effectively. As it uses steam the flooring dries off rapidly too, preventing any issues of wet slippery floors taking ages to dry. The steam cleaner works on just normal tap water, so preventing the need for any chemicals to be used in cleaning and sanitising your hard surface flooring.
[adsense]
The Hard Surface Floor Steam Cleaner comes with two 'magic pads' to be used to clean the floors with. These pads are machine washable to reduce the waste of disposable heads. It also includes a measuring cup and funnel to help you pour the water into the steamer, and a tray for preheating and cooling the water safely. The handle of the steamer is adjustable, the steamer is 125cm (49 in) in height at full extension. The handle can be detached so that the steamer can be used on counter tops to clean and sterilize them.
The steam cleaner's head is 32 cm (12.5in) x 18 cm(7 in), this makes it effective in cleaning even large areas quickly, while its swivel head allows it to be easily maneuvered in small spaces. The cleaner has a 7.5 meter (25 foot) electrical cord offering you a large area of reach without needing to unplug it.  The cleaner weighs 5.5 pounds when empty of water, so it is light enough to move about a house or office with ease.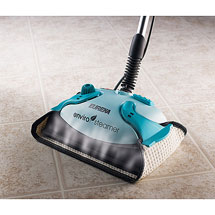 Some considerations though are that if you live in a hard water area the cleaner will become clogged up. This can be cleaned with vinegar when needed or soft/distilled water could be used instead of tap water. Though the steamer is suitable for hard surfaces, floors that are waxed or even unsealed should not be cleaned by them, as the heat will damage the wood, or melt the wax finish.
Via: Enviro Gadget