The Novel Dog Bike Trailer, by DoggyRide (Dutch Dog Design), gives dogs and pets the opportunity to share day trips with you, whether you're on a jog or a bike. It includes safety features, like the tow bar design and the side reflective stripes.
The head rest cushion in the front opening of the Novel makes it even more comfortable for your dog. The new stylish design and the lightweight alloy frame continues to make it the top of the model of the DoggyRide product line.  It folds easily and converts to a stroller (with optional kit), car seat or crate.
The DoggyRide Novel is the result of 4 years of innovation and research in the behavior of dogs in a bicycle trailer.  The lowered center of gravity ensures stability while the larger wheels provide the comfortable ride. With the two section front window your dog can stick his head out,
Here's a laundry list of features, benefits and options- straight from the company:
FEATURES:
Safety:
# Lowered center of gravity for optimal stability
# Seat position and tow bar alignment designed for safety and stability
# Side support designed to prevent leaning to rotating wheels
# Fabric and screen mesh that protects rain, UV and paw scratches
# Side and front reflection stripes on cabin
# Safety flag included
Comfort:
# Alu alloy frame for less towing weight (8 lbs lighter than Original)
# Fits through most doors with it's 30.5 inches (78 cm) width
# Alloy rims and RVS spokes for durability
# Tow bar aligned from center for leveled ride and stability
# Stable and cleanable anti-slip base
# Two section roof-front opening designed for optimal riding pleasure for different breeds
# Rain/dust front layer to prevent spats or eye sensitivity
# Headrest cushion on edge of front opening
# Convenience pouch and water bottle holder in rear entry
# Folds easily for storage
# Kickstand stabilizes trailer for boarding
Versatility:
# Quick release wheels for easy and quick conversion
# Main cabin can be used as crate for training purposes
# Cabin fits into rear section of station wagons and SUVs to accommodate long outdoor trips
# Use of cabin on camping trips as tent
# Converts to jogger or stroller with optional purchase
# Optional roof rack for cycling vacation or groceries
Available colors: Green/Gray or Red/Black
Cabin dimensions: 31.5x21x25.5 inches / 80x56x65 cm
Loading capacity: 110 lbs / 50 kg
Dog size: max. 65 cm / 26″ (height)
Net weight: 30 lbs / 14 kg
Wheel size: 20″ – push release
Safety standards: Meets or exceed ASTM standards
Dimensions folded: 31.5x21x4 inches / 80x56x10 cm
OPTIONS:
Optional Extra Hitch for 2nd Bike:
An extra hitch part that attaches permanently to the bicycle to use on a second bicycle.
In case you want to use the DoggyRide on more than one bicycle the extra hitch is recommended.
[adsense]
Optional Regular Pet Mat:
The original pet mat for the DoggyRide, which the dog considers quickly as his/her spot.
Can also be used outside the DoggyRide, for instance in the living room or crate.
5 cm thickness of foam and exactly fitting into the DoggyRide.
The cover is washable.
The bottom is has anti-slip layer to ensure that moving around of your pet will keep the mat in place.
The top is made of fleece with gives a soft feeling. A high quality mat that fits the product.
Optional Luxe Pet Mat:
The Luxe pet mat is 6.5 cm thick (2.5 inches) with 2-inch firm foam and 0.5 inch memory foam at the top. This makes it even an orthopedic pad and the test results are that 80% of the smaller shocks are absorbed and it consumes all the vibration from the road. A great pad to add to your trailer and use at home as well.
Cargo Roof Rack:
This sleek design cargo roof rack always you to carry your camping gear or groceries on top of the trailer while your dog is enjoying full room inside the trailer.
Optional Leash Set:
This sturdy leash set enables you to leash your dog inside the trailer.
For larger dogs it is recommended that you do leash them inside the trailer.
The leash set can also be used to walk two dogs on one main leash.
[adsense]
Optional Rain Cover:
Trailer protection from the rain during the ride. This rain cover is a protection cover, so you can still ride during pouring rain. You dog sits inside the trailer without it getting wet and still has sufficient air circulation by the breathing pockets on the side.
Optional Stroller Conversion Kit:
The stroller kit allows you to convert the trailer to a stroller.
Optional Jogger Conversion Kit:
The Jogger kit allows you to convert the trailer to a Jogger.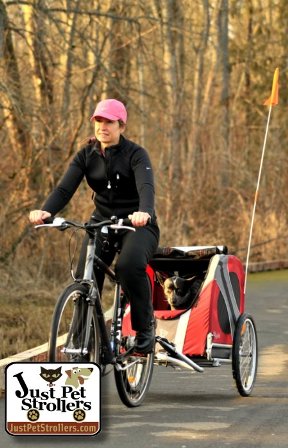 Optional Jogger-Stroller Combo Conversion Kit:
The separate Jogger Kit and the separate Stroller Kit share some common parts. The combo kit includes the common parts and the other parts to at any time, make either the Jogger or the Stroller depending on what you want to do. This sharing of parts enables you to purchase both at a reduced price. You must switch back and forth between the wheels going from stroller to jogger or jogger to stroller. This is not two complete kits but contains all the parts to make either at any time.
Designed in Holland, DoggyRide's Novel Dog Bike Trailer has a 1 year manufacturer's warranty. You can buy it online for around $360 (www.doggyride.com)
Published on March 17, 2010