The Chinavasion G182 robot vacuum cleaner with an IP WiFi enabled camera not only keeps your floors clean, you can direct it to vacuum from your holiday destination and even use it to communicate and keep an eye on your family back home.
The G182 robot vacuum cleaner has a 360-degree pan and features a WiFi-enabled tilt IP camera design and an onboard microphone. You can go online from anywhere in the world and get the machine to vacuum the floors while you relax poolside. As the machine moves around, the camera allows you to observe people in the house and lets you see and speak to your family.
If there are certain areas you don't want the robot to venture into, the machine includes a "virtual wall" that sends a false signal to the robot that there is a wall ahead.
It is also advised that you operate the robot vacuum cleaner in each room of the house to ensure that the layout of the room or the furniture doesn't interfere with the unit's navigation system.
If the battery is running low, it will return to its docking station to recharge its batteries. Just remember that it will need a human to empty the dust bin after each cleaning cycle.
The machine has a molded black and yellow ABS body, two castor-style front wheels and large traction-grip rear wheels and a pressure-sensitive front bumper. It sits one-inch from the floor, will operate for 70 minutes on a single charge and has a noise level that is less than 50db.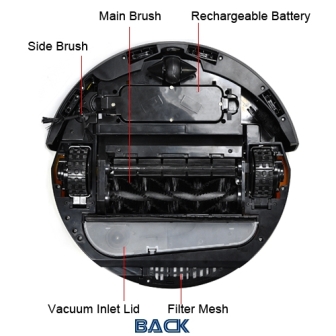 The Chinavasion G182 Robot Vacuum Cleaner with an IP WiFi  is available from Chinavasion for $495.
Published on March 17, 2010